Fresh Mango Salsa is a staple here in South Florida. A mix of finely diced mangoes, jalapenos, red bell pepper, the juice + zest of a lime and fresh-cut cilantro makes an intoxicating, sweet, spicy bite.
Plus it's insanely easy to make, which means you can easily whip up another batch when it's gone and trust me it goes fast! Take it to a party and you'll be lucky if there's any left by the time you make it around the smorgasbord.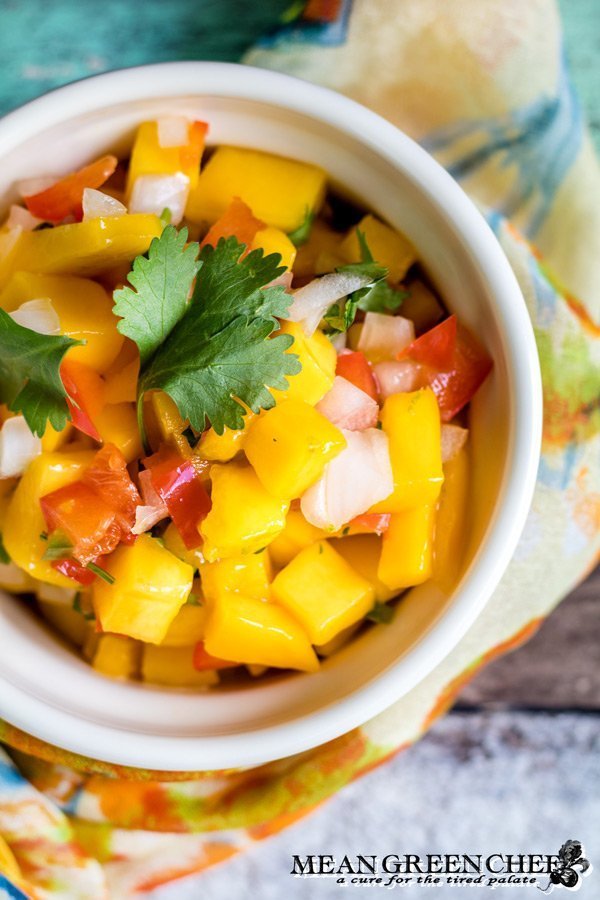 We celebrate Mangoes locally with the Mango Mania Festival here on the Island, people from all over congregate to taste more than 20 different varieties of mangoes. It's a recipe inspiring summer event that spans 2 weekends draws thousands of people and offers an array of taste sensations! Plan a trip for this fun celebration!!  We'll see you there, with our unbeatable sunsets and tarpon-rich waters, it's well worth the trip!
Some mango species will turn more soft and fragrant than others. But for the most part, there are three things to look for when searching for the perfect mangoes.
Texture: Look for a similar give as a ripe avocado or peach, which is slightly soft and indicates the first stage of ripening.
Color: Mangoes turn from green to varying beautiful shades of yellow, orange, and red. Select fruit that is mostly mottled in with color and less green. it doesn't have to be fully yellow, orange, or red but mostly.
Aroma & Sap: When mangoes become fragrant and exude sap they are prime time eating!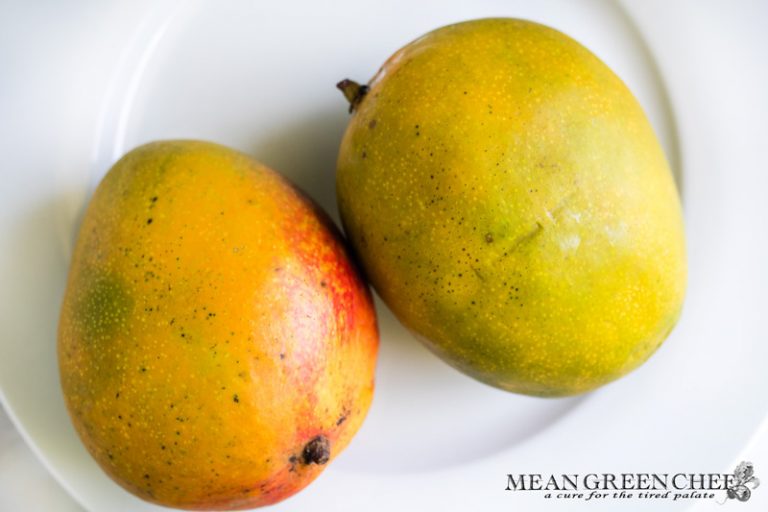 Exceptions to the ripeness rules:
Tommy Atkins Mango: Does not change color and is best used in sour recipes for pickling.
Ataulfo Mango: Usually not fragrant or sappy even when fully ripe but becomes wrinkly to show it's ripeness.
Food Nerdery Alert: There are over 1000 varieties of mangoes in the world, and the list is possibly even double that according to some! New varieties are being cultivated daily, meaning mangoes are available worldwide any time of the year! Mangoes are related to cashews and pistachios! Can you see the resemblance?
Fully ripened mangoes can be stored in the fridge up to 5 days to slow the ripening process and extend their shelf life, but beware they begin to lose flavor and can become difficult to cut.
HOWEVER, DO NOT refrigerate them before they are fully ripened.
To speed up ripening, place mangoes in a paper bag at room temperature, and store for approximately 2 days or until the mangoes are ripe.
How to Safely Cut a Mango
There are a few ways to cut mangoes safely and my preferred is the method below since I can get such a nice fine dice out of it. No matter how you decide to dice up your mangoes always be sure that your working with a razor-sharp knife. Dull knives cause many injuries in the kitchen!
Peel the skin off the mangoes with a sharp knife or veg peeler.
Slice off the bottom of the mangoes so they can stand on end easily.
Now thinly slice down the cheek (the wide flat part on each side) until you get close to the stone. The trim down each of the sides to remove any excess meat.
Once this is done with both mangoes cut into a 1/4 inch dice and toss into a bowl and proceed to the recipe or eat anyway you like!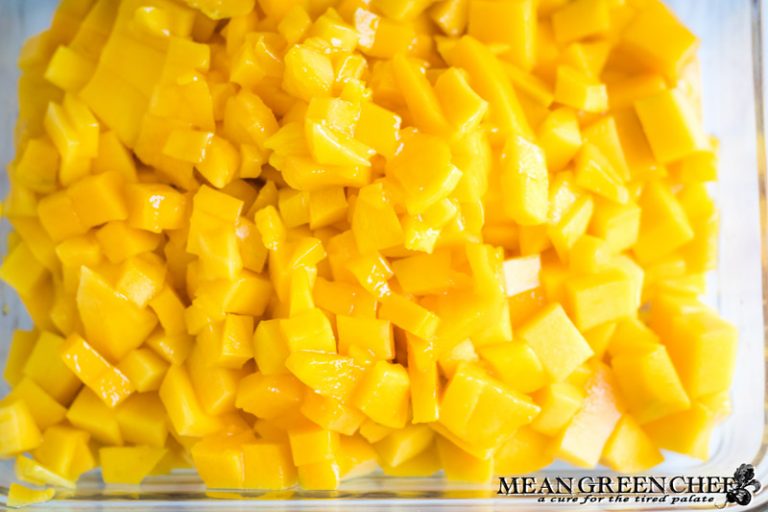 Ways to Use Fresh Mango Salsa
It literally brings excitement to just about every dish!
Dip: Perfect for fresh crispy plantains and salty tortilla chips.
Garnish: Top spicy Blackened Chicken or fish to cool your palate and add crazy good depth of flavor!
Mexican Fare: Fresh Mango Salsa makes all Mexican food sing even louder, it rocks out tacos, enchiladas, rice, and damn near anything you add it to.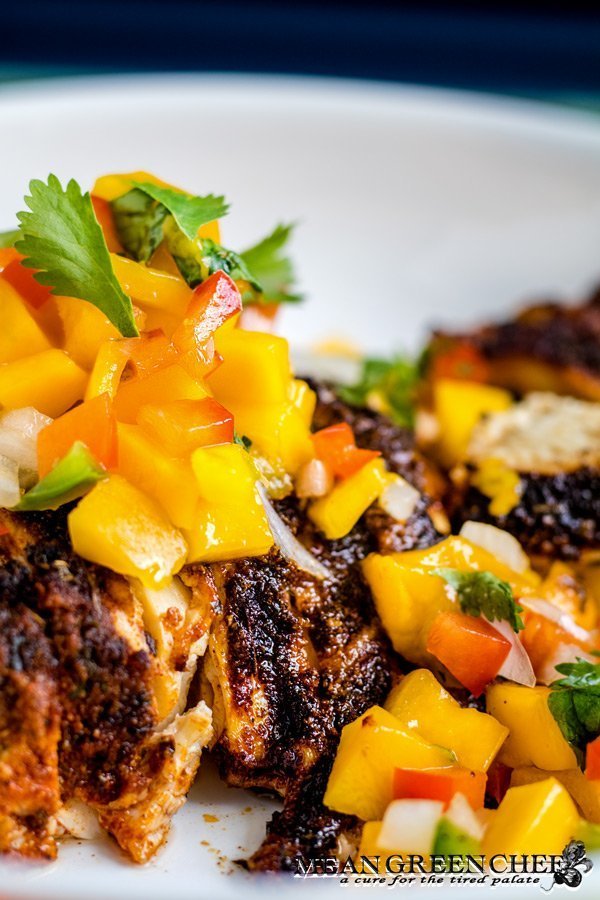 Please Pin Our Recipe to Share with Your Friends!
How to Make Fresh Mango Salsa
Fresh Mango Salsa
Fresh Mango Salsa is a staple here in Florida, a mix of finely diced mangoes, jalapenos, red bell pepper, the juice + zest of a lime and fresh-cut cilantro makes an intoxicating, sweet, spicy bite.
Keyword:
Cinco De Mayo, Mangoes, Mexican Fare, Side dish, Vegetarian
Ingredients
2

large (3 cups)

ripe mangoes,

peeled + ¼ inch dice

2

medium

jalapenos (or to taste),

scrubbed + ¼ inch dice

1

medium

red pepper,

scrubbed + ¼ inch dice

1

small

white or red onion,

topped + peeled + ¼ inch dice

½

cup

fresh cilantro,

washed + dried + loosely packed

1

large

lime,

zest + juice

½

teaspoon

pink Himalayan sea salt or Kosher sea salt,

to taste (finely ground)

fresh cracked black pepper,

to taste
Instructions
Add diced mangoes to a bowl..

Then toss in the red pepper, onions, cilantro, lime zest, and juice...

Gently stir, season with salt + pepper to taste. Cover and refrigerate 15 minutes and up 4 hours to allow flavors to marry.

Serve with fresh plantain chips or as desired, shown here topping our Blackened Chicken.
Recipe Notes
Prep time is approximate, depeding on knife skills. Please be sure to use a sharp knife, dull knives are dangerous!
Can be served immediatly but allowing the flavors to marry creates an even better salsa.
Store in an airtight container up to 3 days in the refirgerator. 
or our Amazing Roasted Salsa Verde, roasted to perfection and then blended into creamy dreamy salsa that will leave everyone wanting more!
Did you Make a Mean Green Chef Recipe?
We 💙LOVE💚 seeing your creations! So don't forget to tag us @meangreenchef or #meangreenchef so we can see what's happening in your kitchen!
Also Shared on these great Blog Hops!