Our Easy Brown Butter Granola with Pecans and Cranberries is seriously delicious, easy and makes a great breakfast or high energy snack on the run. If you aren't familiar with Brown Butter, then check out our recipe and tips on the many ways you can utilize this amazing flavor enhancing technique here.
We also toss Pan Roasted Pecans into this mix, and wow it's a one-two punch of flavor! Eaten plain, in a bowl with milk, or adorning our Easy Peach Parfait it's a supercharged food.
Old-fashioned Oats: Are our main oat choice for this granola, their perfect chewy consistency is the base of most granola recipes. Sometimes called rolled oats, they have a flat oval shape which is achieved when the kernels are steamed and then rolled to flatten them.
Steel Cut Oats: We've added steel cut oats for their excellent texture. Also called Irish or Scotch oats they have been cut and not rolled. And have the appearance of fine grain and a chewy texture.
1 Melt the butter: Place the unsalted butter in a cold heavy-bottomed stainless steel skillet. Set the temp to medium-high heat. As the butter melts it will begin to foam. Swirl the pan occasionally to help ensure even cooking of the butter. 
Watch for brown specs and nutty aroma: Once melted the butter will foam up a bit, then subside. Watch carefully as lightly browned specks begin to form at the bottom of the pan. Smell the butter, it should have a nutty aroma.
Remove from heat and pour into a bowl to stop the butter from cooking further and perhaps burning.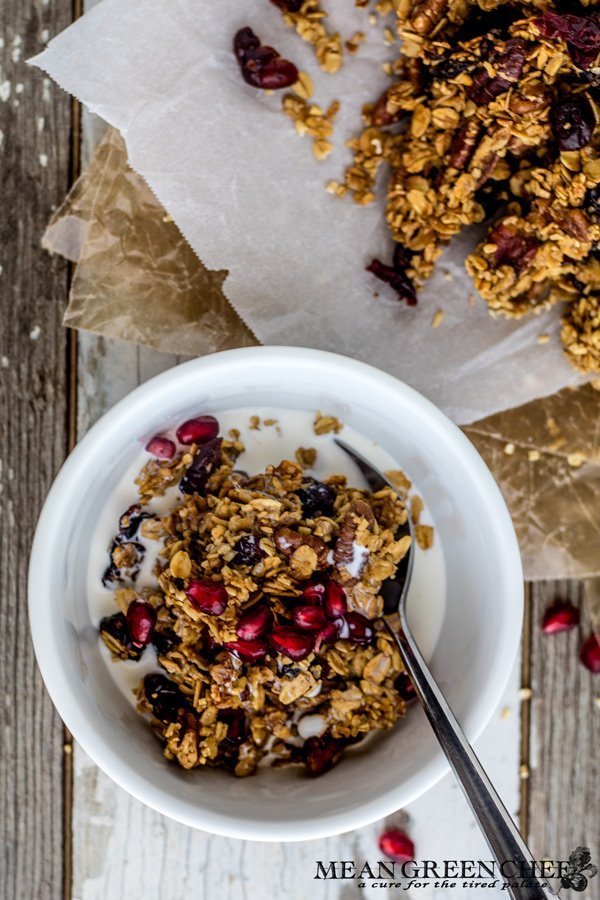 What Type of Nuts Are Best in Homemade Granola Recipes?
Whatever your heart desires! Here we add our Pan Roasted Pecans because they add an extra depth of flavor, that compliments the brown butter. If you don't have pecans, you can use what you have on hand, but I do suggest that you toast them up in a pan before blending into the granola.
walnuts
almonds
cashews
macadamia nuts
pistachios
hazelnuts
peanuts
Brazil nuts
The same goes for dried fruits, here the cranberries are a great pair with the toasted pecans. But you can use what you have on hand too!
apricots
blueberries
cherries
raisins
strawberries
peaches
figs
dates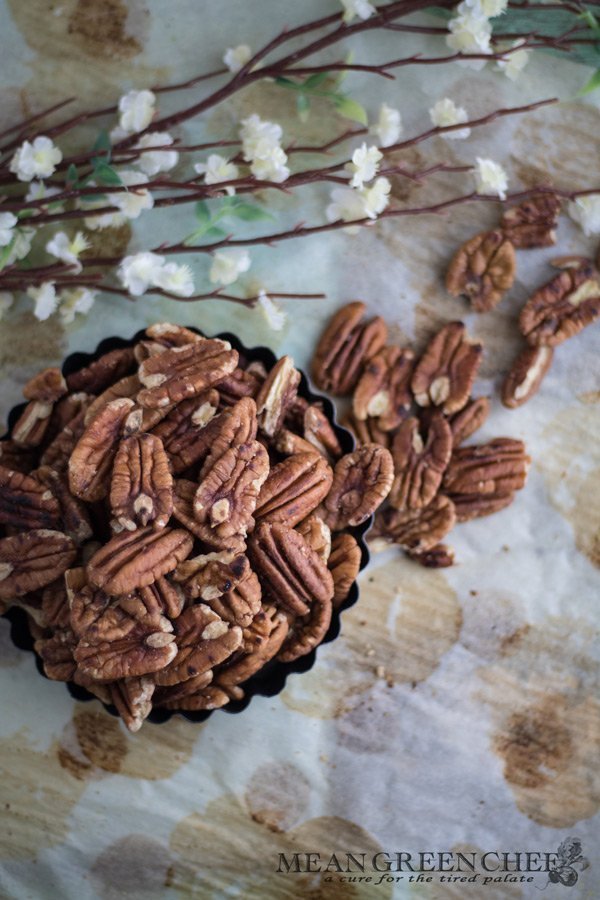 Why Use Egg Whites in Granola?
They are the Key Ingredient that binds the ingredients and creates tremendous granola clusters!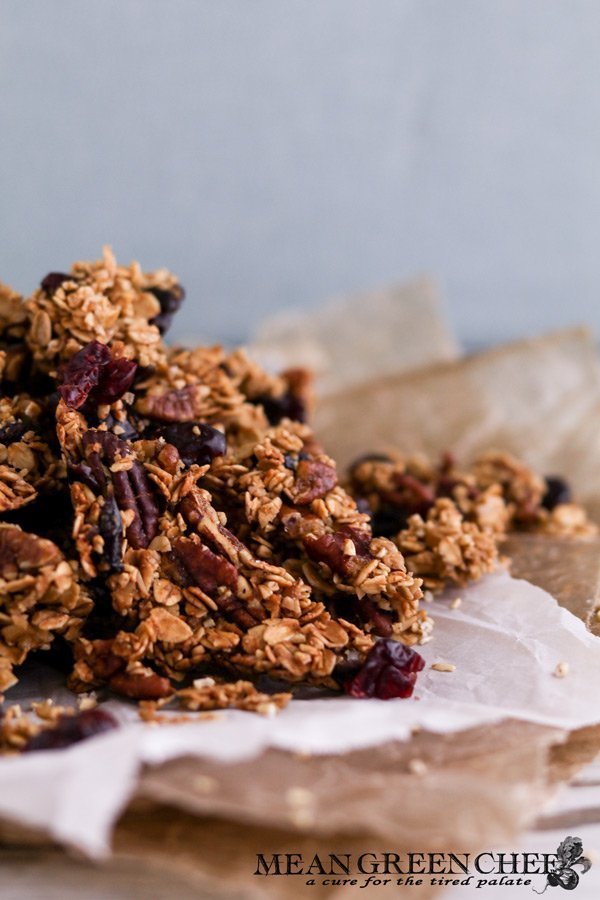 We always make double or triple batches of Brown Butter Granola with Pecans and Cranberries and still disappears faster than we can make it. The recipe here is for a double batch, you can easily halve it to make a single but goes quickly, you'll catch yourself snacking on it soon after it comes out of the oven!
Please Pin Our Recipe to Share with Your Friends!
How to Make Easy Brown Butter Granola
Easy Brown Butter Granola
Seriously Easy Brown Butter Granola, perfect for eating plain, in a bowl with milk, or in a yogurt parfait! 
Servings
:
14
cups (approximately)
Ingredients
7

cups (630 grams)

old fashioned oats

1

cup (180 grams)

steel cut oats

4

cups (500 grams)

pan roasted pecans,

chopped

2

cups (240 grams)

dried cranberries

1

cup (180 grams)

dark brown sugar

1

teaspoon

cinnamon,

ground

1

teaspoon

Pink Himalayan sea salt or Kosher sea salt

1/2

cup (120 grams)

Brown Butter

3/4

cup (255 grams)

honey

4

teaspoons

pure vanilla extract

2

large

egg whites,

whipped till frothy
Instructions
Preheat the oven to 300°F/148°C, arrange rack so that it's the second level from the top and line a baking sheet with parchment paper. 

Mix the old fashioned oats, steel cut oats, pan roasted pecans, dried cranberries, dark brown sugar, cinnamon, and sea salt together in a large bowl.

Pour in the Brown Butter, honey, pure vanilla extract, and frothy whipped egg whites. Stir until thoroughly combined and ingredients begin to stick together. Spread out on the parchment lined baking sheet and press down with a flat wooden spatula until the mixture is even and becomes compacted. Bake for 30 minutes and then rotate the pan and bake for an additional 15-30 minutes until the granola becomes golden toasted and crispy.

Remove from the oven and cool completely and then break into chunks.
Recipe Notes
Prep time is approximate. 
Store in an airtight container at room temp up to 2 weeks. 
Did You Make a Mean Green Chef Recipe?
We 💙 LOVE 💚 seeing your creations! So don't forget to tag us @meangreenchef or #meangreenchef so we can see what's happening in your kitchen!