Cilantro Garlic Sauce could easily be considered a Creamy Chimichurri its flavors are right on point and nearly smack you upside your head!
With just a few simple ingredients you have a sauce that goes with nearly any dish. Perfect for grilled steak, chicken and oily fish such as salmon or tuna. Awesome on tacos, poured over freshly sliced avocado or on blackened shrimp. 
You can easily control the amount of heat by using oven roasted garlic or even by adding a little less raw garlic. We dig garlic so we tend to get a little heavy-handed with certain dishes (not all) but a few. But you're in charge so start with a clove, blitz in the food processor and then add more garlic if you like.
What's the difference between Greek Yogurt and Sour Cream?
A side-by-side comparison shows some similarities in looks and taste. However, you'll notice that Greek Yogurt has a slightly more concentrated sharp flavor when compared to Sour Cream, plus as a bonus Greek Yogurt also has less fat than regular Sour Cream.
Many people can't tell the difference in taste and the consistency makes them highly interchangeable in nearly every recipe. You can easily swap them out at a one-to-one substitution ratio even when baking.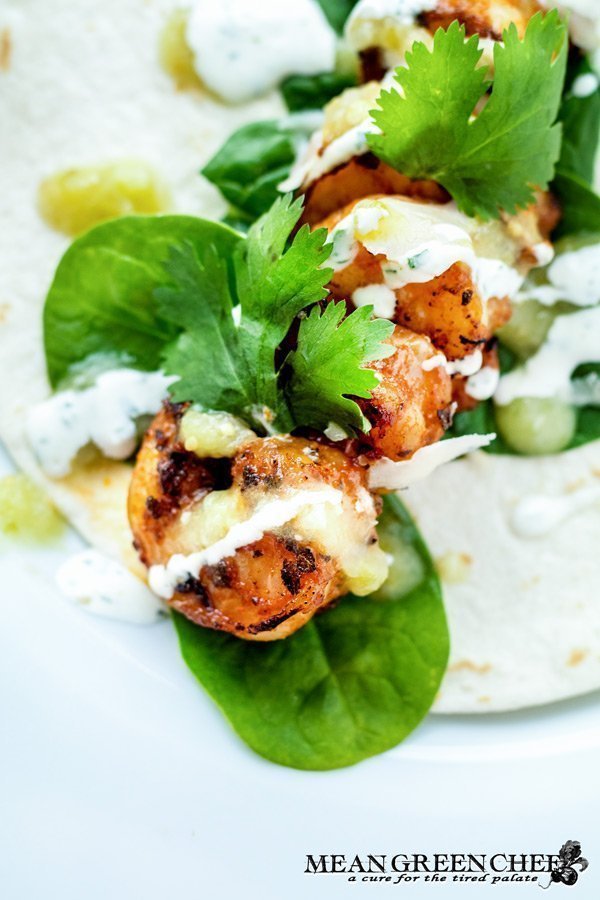 Chef's Tip: Greek yogurt can easily curdle when exposed to high heat so be sure to use full fat (whole milk) Greek Yogurt when making sauces and gently bring it to temperature to avoid curdling.
How do I substitute Greek Yogurt for Sour Cream?
Stay away from non-fat: That's right we are going for whole milk Greek Yogurt here, it's the closest in flavor, texture, and consistency to sour cream. Non-fat yogurts typically have added thickeners and stabilizers lacking in flavor and substance, that could prove to be a major let down in a dish. 
One-to-one substitution ratio:
1 cup (240 grams) Greek Yogurt = 1 cup (240 grams) Sour Cream
Please Pin our Recipe to Share with Your Friends!👇🏼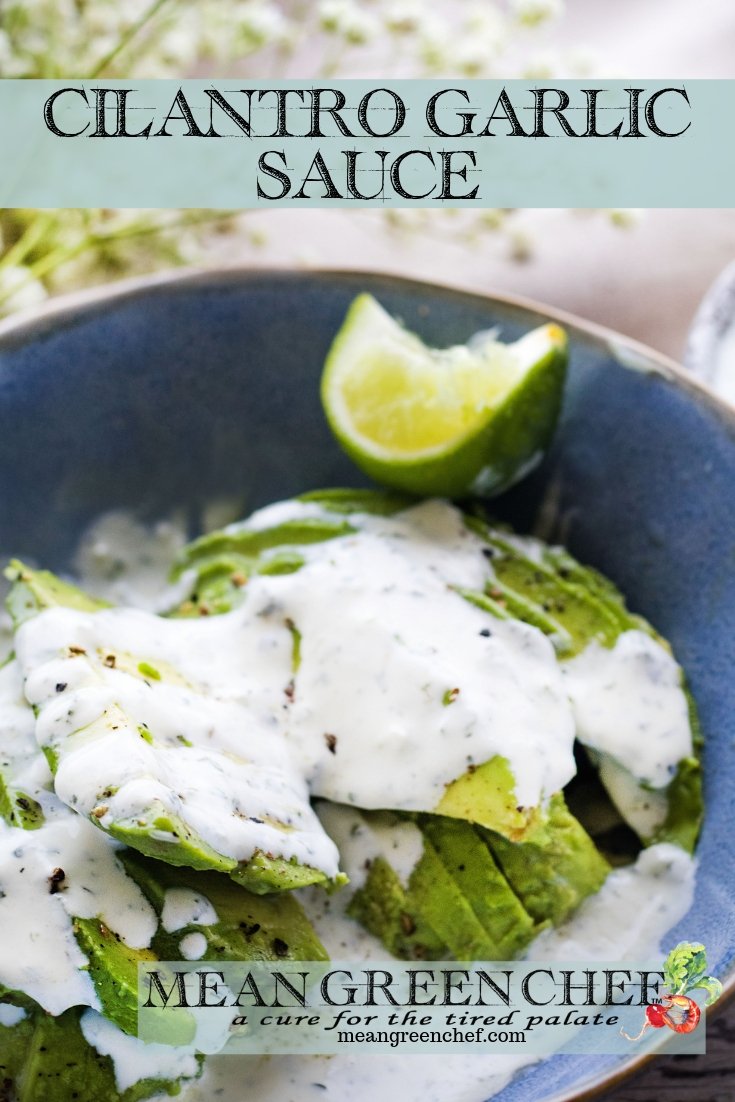 How to Make Cilantro Garlic Sauce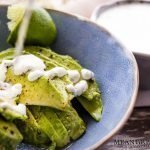 Cilantro Garlic Sauce
Cilantro Garlic Sauce could easily be considered a Creamy Chimichurri its flavors are right on point and nearly smack you upside your head!
Keyword:
Cilantro, Cilantro Garlic Sauce, Garlic, Greek Yogurt, Lime, Sour Cream
Ingredients
2

cups (480 grams)

Greek yogurt or sour cream,

full fat

4

Tablespoons (60 grams)

extra virgin olive oil

1

teaspoon (5 ml)

white vinegar

1/2

cup

cilantro,

washed

4

cloves

garlic,

smashed

1

lime,

zest + juice

Pink Himalayan sea salt or Kosher sea salt,

to taste

freshly cracked black pepper,

to taste
Instructions
Add Greek yogurt (or sour cream), EVOO, white vinegar, cilantro, garlic, and lime to a food processor or blender and blitz for 30 seconds to a minute until desired consistency is reached. Season with sea salt and freshly cracked black pepper to taste.

Can be served immediately, for deeper flavor pour into an airtight container and allow to chill for a couple of hours or overnight. Will keep in the fridge up to 5 days.

Looking for other great flavor inspiration for your Mexican meal? 
Did you Make a Mean Green Chef Recipe?
We 💙LOVE💚 seeing your creations! So don't forget to tag us @meangreenchef or #meangreenchef so we can see what's happening in your kitchen!
Also Shared on these great Blog Hops!