Gulfside Blackened Grouper fired in a cast-iron skillet to crispy blackened flaky perfection. Living in South Florida has advantages. Balmy breezes in the middle of winter, a bevy of fruit trees heavy with fruit throughout the year and fishing boats with fresh fish in your backyard daily.
With plenty of locally caught Grouper, it's easy to satisfy a craving for a blackened grouper sandwich in a snap. We season ours with Badass Blackened Seasoning a staple in our kitchen, you can use it on damn near anything you want to add a deep smokey flavor too.
Not spicy but smokey in flavor it adds some crazy good character to fish, chicken, shrimp, veg, and even tofu! And it's all done in a flash too so no slaving in the kitchen when you'd rather be outside enjoying those balmy breezes or chilling out on the couch!
Chef's Tip: The majority of Blackened Seasoning will have a step where you dip or brush the protien with melted butter. I omit this step altogether and liberally sprinkle Blackened Seasoning onto what I'm cooking. The butter is heated in the pan in lesser amounts, this reduces the amount of fat overall. Not that I am a calorie counter but I do cut excess when possible.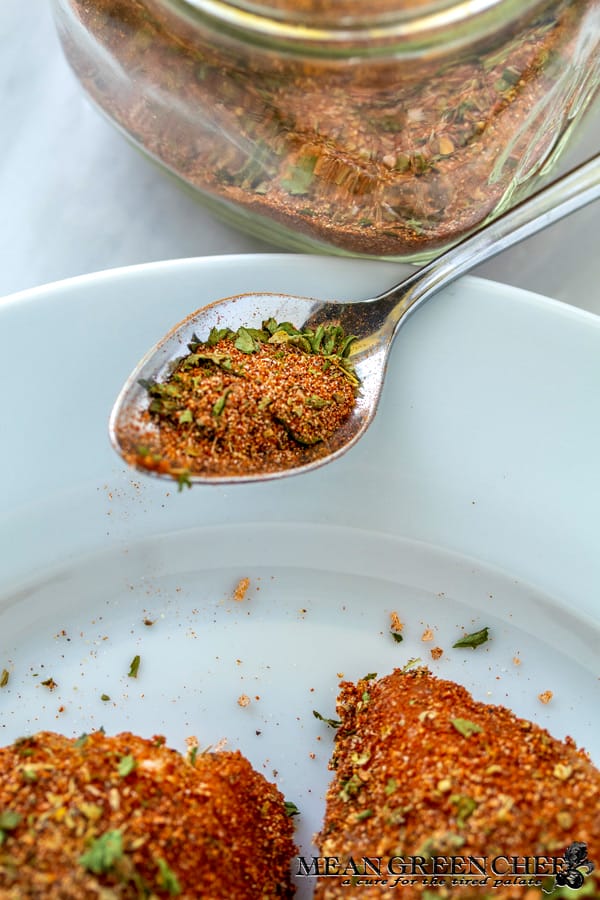 Blackened Grouper sandwiches are a staple on nearly every restaurant menu in South Florida. There's nothing like the taste of fresh grouper, it has firm flesh with a mild yet distinct flavor. It reminds me of Sea Bass and the result when cooked is a flakey, moist, totally gratifying bite.
Always watch fish closely when cooking no matter what method you choose to cook, it can go from done to overdone in a flash. 
Cast Iron: Definitely our preferred method of making blackened grouper, due to the fact you can get a fire hot sear on the blackening.
Grill: Cooking over high heat on a grill is also a great way to prepare blackened grouper. Plus you get the smokey grill flavor on top of the blackening, total flavor score.
Cast Iron on the Grill: The best of both worlds! Heat the cast-iron skillet over an open flame and once hot proceed with cooking. 
Oven: An oven is a terrific option to finish cooking grouper or anything blackened for that matter. You'll sear both sides first and then complete then finish cooking in the oven. 
Preheat the oven to 425°F/218°C after searing the Grouper add to the preheated oven for 4-5 minutes or until fish is opaque and flakes easily. Remove skillet from oven, and place fish, on a platter and allow it to rest for 5 minutes. A great option if you worry about burning dishes. 
What Is the General Rule of Thumb for Cooking Fish?
The general rule of thumb is to cook fish about 8-10 minutes total, per inch of thickness. This means, if your grouper fillet is an inch thick, grill it for about 4-5 minutes skin-side down, then flip it to finish. This applies to any fish you're cooking if the fish is less than 1-inch thick there's no need to flip it. 
What Temperature Does Fish Need to Be Cooked To?
The USDA recommends cooking fish to an internal temperature of 145°F/63°C and how long this takes depends on the thickness of the fillets you are cooking. Use a thermometer to test for doneness if you are unsure if the fish is done or not.
What Does Blackened Mean in Cooking?
Blackening is a cooking technique used in the preparation of fish, chicken, seafood, beef, and even tofu. The food is dipped or brushed with melted butter and then sprinkled with Blackened Seasoning.
As noted above I skip brushing my proteins with butter and just rub the blackened seasoning on and cook in a firey hot pan with butter added to it after coming to temperature. This may not be purest cooking when it comes to blackening but it works beautifully. As you can see with our Blackened Chicken.
What Is Blackened Seasoning Made Of?
Blackening seasoning is a mixture of chili powders, spices and herbs, very similar to Cajun and Creole seasonings. Common ingredients include a mixture of chili pepper, garlic and onion powder, black pepper, oregano, and thyme, along with salt, though many variations exist from cook to cook.
Our Badass Blackened Seasoning is made from the following ingredients. 
Smoked Paprika

: One of my favorite spices we do a half and half blend of regular paprika and smoked. The deep smoke flavor is imparted by sun-drying peppers and then slowly smoking them over a fire, a complex flavor profile that will change the way you think about paprika!

Parsley + Oregano

: Impart a wonderful herby essence and are an absolute must.

Cayenne Pepper

: We like it on the spicy side, but you can sprinkle in a little or a lot depending on your palate.

Garlic Powder + Onion Powder

: Both are must-haves neither are interchangeable and each adds it's own character that delivers on taste.

Kosher Sea Salt (coarse ground)

: This is up to you, we prefer using it and sea salt is my number one go-to seasoning, but if you're watching your sodium intake then leave it out.

Freshly Cracked Black Pepper

: Don't be shy add plenty it rounds out this perfect blackened seasoning.
Is Blackened Seasoning Spicy?
No, it's more smokey than fiery. Make it your own! Our recipe is a terrific guide to steer you to that magic flavor but you can easily adjust the heat by adding less Cayenne. Cut the amount in half or by a quarter if you prefer, remember recipes are guidelines and you're in charge of adjusting them to suit your taste and flavor preferences.
What Fish Is Best for Blackening?
Due to the fact Blackening is an extreme form of cooking due to high temperatures. Firm fleshed fish is best for blackening. The following are excellent choices.
grouper

snapper

redfish

mahi

salmon
How Do You Know When Grouper Is Cooked?
When fish reaches the proper cooking temperature, it becomes opaque and flakes. Take a knife and slide it into the thickest portion of the fish at a 45-degree angle. Then gently twist the knife and pull up some of the fish to see it begins to flake. If cooked it will separate easily.
Undercooked fish will not flake easily and is glassy looking (raw in the center). If your fish is undercooked, just continue heating it until it is done. Remember, it will finish cooking quickly so be careful not to overcook it.
Please Pin Our Recipe to Share With Your Friends!
Did you like this simple recipe for making Blackened Grouper? If so, please pin it to your favorite Fish or Seafood Board on Pinterest. We appreciate you helping us grow!
How To Make Gulfside Blackened Grouper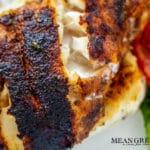 Gulfside Blackened Grouper
Gulfside Blackened Grouper fired in a cast-iron skillet to crispy flaky perfection. Living in South Florida has advantages. Balmy breezes in the middle of winter, a bevy of fruit trees heavy with fruit throughout the year and fishing boats with fresh fish in your backyard.
Keyword:
Blackened, Fish, Grouper
Ingredients
1

lb (450 grams)

grouper fillets,

skinned

2-3

Tablespoons (30-45 grams)

Badass Blackened Seasoning,

or blackened seasoning of your choice

3-4

Tablespoons (90-120 grams)

butter,

good quality

1

Large

lemon,

washed + dried + sliced in half
Instructions
Heat a heavy cast iron pan on high heat until extremely hot, about 10 minutes.

Season Grouper fillets liberally with Badass Blackened Seasoning, allow the fillets to rest while the cast iron comes to temperature.

Add the butter to the cast iron and then immediately add the seasoned grouper into the skillet. Be sure to lay the fillets in an away motion so the butter does not splatter on you. Add the sliced lemon face down. Cook on the first side for 4-5 minutes and reduce heat slightly if necessary. Then flip the fillets and allow them to finish cooking on the other side for approximately 4-5 minutes (1-inch thick fillets).

Remove from the heat and allow the fish to rest for 5 minutes, prep your plates. Shown here as a Blackened Grouper Sandwich, served with fries, salad and fresh tartar sauce on the side.
Recipe Notes
Prep time is for making the Blackened Seasoing, it comes together in a snap as long as you have all of your spices ready to go. 
The Blackend Grouper is best eaten the same day (in my opnion). 
Leftovers can safely be stored in a shallow airtight container in the fridge up to 3 days. 
Refrigerate within two hours of cooking.
Freeze in covered airtight containers or heavy-duty freezer bags, or wrap tightly with heavy-duty aluminum foil or freezer wrap. Frozen Grouper is best if used within 2-3 months.
Did You Make A Mean Green Chef Recipe?
We LOVE seeing your creations, don't forget to tag us @meangreenchef or #meangreenchef so we can see what's happening in your kitchen!
Pin Gulfside Blackened Grouper Recipe for Later!