Pasta Pescatore, also known as the fisherman's spaghetti. Is a fabulously easy and showy pasta dish that you can tailor to suit your taste, make it your own!
Here we have a mixture of clams, mussels and big pink shrimp. But you can always add calamari, diver scallops, lobster, and even slices of your favorite fish. Plus, it's super quick to toss together after work, cooks in one pot (with the exception of the pasta) and only takes about 40 minutes from start to finish.
Yes, if you're adding clams and mussels you'll want to purge them of sand, as they both live their lives burrowed in the sand and gravel. They accumulate sand, grit, and dirt because they don't fully close their shells, so they definitely need to be purged prior to cooking.
How do I purge Clams and Mussels?
To purge, submerge them in a saltwater solution of 1/3 cup sea salt combined with 1-gallon water for 30 minutes, after which the water should be changed. Lift the clams and mussels out of the water and then dump out the water and repeat two to three times until there's no more sand.
Easy way to Purge Clams and Mussels
Chef's Tip: Alternatively, clams and mussels can be left in a large amount of water overnight with a 1/3 cup of sea salt, we've been using this method for years and it works like a charm. Lift the clams and mussels out of the overnight soak and rinse. You don't want to dump the soak water, clams, and mussels all at once because you risk breaking shells and dumping the purged sand back onto and into the mollusks.
Before adding to the sauce you'll want to scrub each of the clams and mussels with a stiff brush, to remove excess grit and/or barnacles.
If any of the mussels have a hairy beard (most come debearded) that sticks out from the shell you'll want to pull it off with a sharp knife. 
Your bivalves are definitely alive, so give them room to breathe. Keep them that way by storing them properly. Never store them in an airtight container, since they'll suffocate, that's why most come in a mesh bag. Alternatively, place them in a colander set over a shallow dish, cover with a damp towel, and store in the coldest part of your fridge up to 2 days.
What are the best tomatoes to use for Pasta Sauce?
We used our Sweet Slow Roasted Tomatoes for this Pasta Pescatore Recipe, however, San Marzano tomatoes are our go-to tomato when we don't have access to the best fresh tomatoes. Grown in the Campania region in rich soils they are superior and create a sweet deeply flavored sauce.
What type of pasta should I use for Pasta Pescatore?
This dish is traditionally served over spaghetti, but you can adjust it and use your favorite pasta. Here we've served it over the top of our Egg Yolk Pasta rolled to thickness setting of 4 and then cut spaghetti style.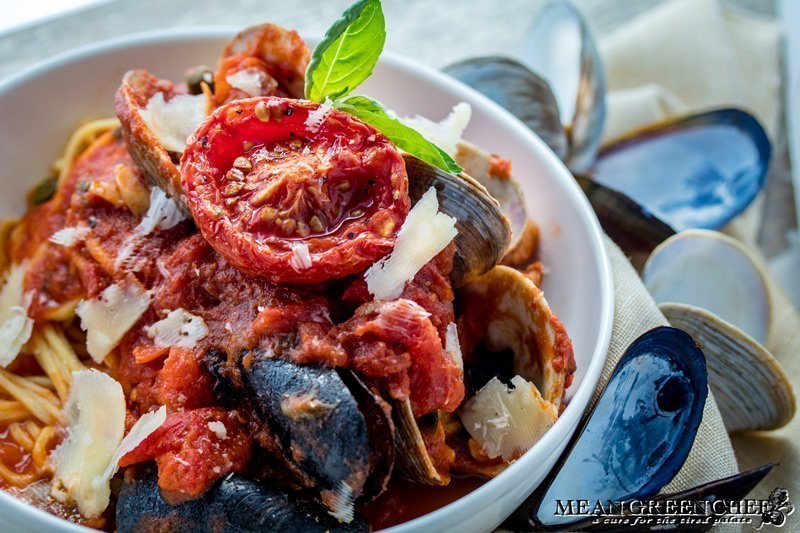 Please Pin our Recipe to Share with Your Friends!👇🏼
How to Make Pasta Pescatore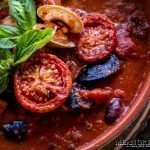 Pasta Pescatore
Purge Clams and Mussels overnight (if using)
Pasta Pescatore, also known as the fisherman's spaghetti. A fabulously easy and showy pasta dish that you can tailor to the seafood you love, make it your own!
Keyword:
Pasta, Seafood Pescatore, Tomatoes
Ingredients
6

Tablespoons

extra virgin olive oil (EVOO)

1

tin (56 grams)

anchovy fillets

finely diced

4

cloves

garlic,

smashed + diced

1/2

teaspoon

red pepper flakes,

optional or to taste

1/2

cup (90 grams)

Kalamata olives,

pitted + sliced in half

1/4

cup (45 grams)

capers,

drained

1

28 ounce can

San Marzano tomatoes,

or 28 ounces Sweet Slow Roasted Tomatoes see recipe above

1/2

pound (225 grams)

spaghetti,

reserve 1 cup of pasta water after cooking

1

cup (240 ml)

reserved pasta water

12

Cherrystone Clams (sometimes labeled as neck clams)

purged + scrubbed

12

mussels

purged + scrubbed

12

large

shrimp,

peeled + deveined

Grana Padano cheese,

for garnish

fresh basil,

for garnish
Instructions
Heat a large heavy-bottomed sauce pan over medium-high heat, pour in the olive oil and reheat for 30 seconds, then add the anchovy fillets and garlic and saute for 1 minute.

Toss in the red pepper flakes, olives and capers, cook stirring for 3 minutes.

Add in the tomatoes and break up with a flat bottomed wooden spoon reduce heat to medium-low and cook for 20 minutes. While the sauce is simmering bring a pot of salted water to a boil and cook pasta till al dente, reserve 1 cup of pasta water and set aside, drain pasta and toss back into the empty pot splash with olive oil, stir and set aside.

Add the clams cover the pot and cook for 5 minutes.

Then were going to drop in the mussels and shrimp, stir, cover and cook for an additional 5-7 minutes.

Uncover and discard any clams and mussels that haven't opened. Pile pasta onto plates and ladle sauce over the top with plenty of seafood for each guest. Garnish with Grana Padano and fresh basil, serve with crusty bread and a salad if desired.
Recipe Notes
Prep time is approximate.
Be sure to purge clams and mussels if using (see directions above).
Best eaten immediately. 
If you love tomato based recipes then be sure to check out some of our other recipe creations!
Plus, learn How to Blanche Tomatoes for easy peeling. 
Did you Make a Mean Green Chef Recipe?
We 💙LOVE💚 seeing your creations! So don't forget to tag us @meangreenchef or #meangreenchef so we can see what's happening in your kitchen!