Spicy Shrimp Scampi served over a bed of fresh zucchini noodles. Sauteéd shrimp tossed with EVOO, red pepper flakes, a little red onion, smashed garlic, capers, fresh lemon zest and juice and a big pour of dry white wine. We like things a little fiery sometimes, so we created this spicy scampi for a quick healthy dinner!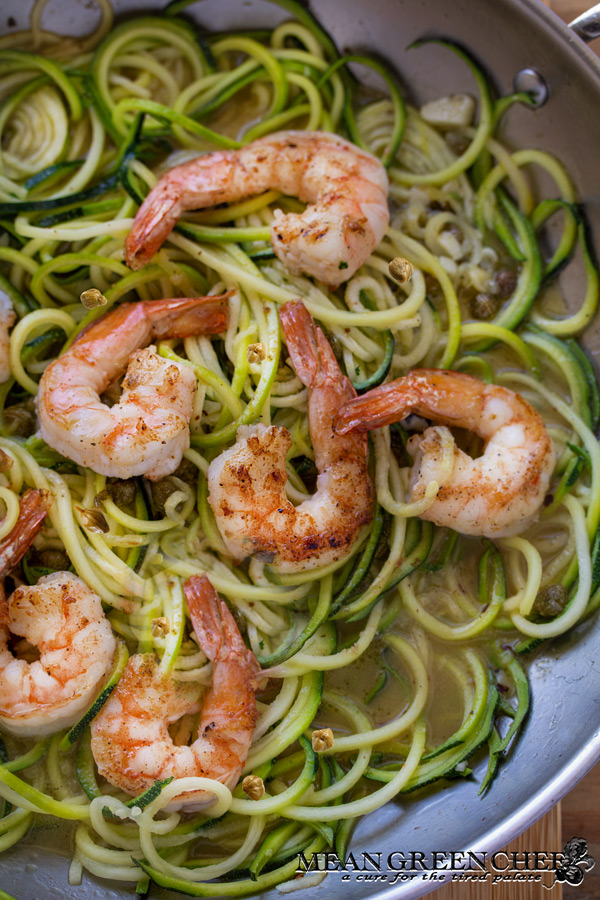 Not a classic scampi by any means, but this Spicy Shrimp Scampi is packed with flavor. You can easily control the heat by cutting back on the red pepper flakes and garlic. The great thing about dishes like this is you can easily adjust the ingredients to suit your taste. If you don't like capers, just leave em' out!Lunch or dinner, this is quick and super tasty! I spiralized and sauteed up a bunch of zucchini in Extra Virgin Olive Oil, Kosher sea salt and freshly cracked black pepper.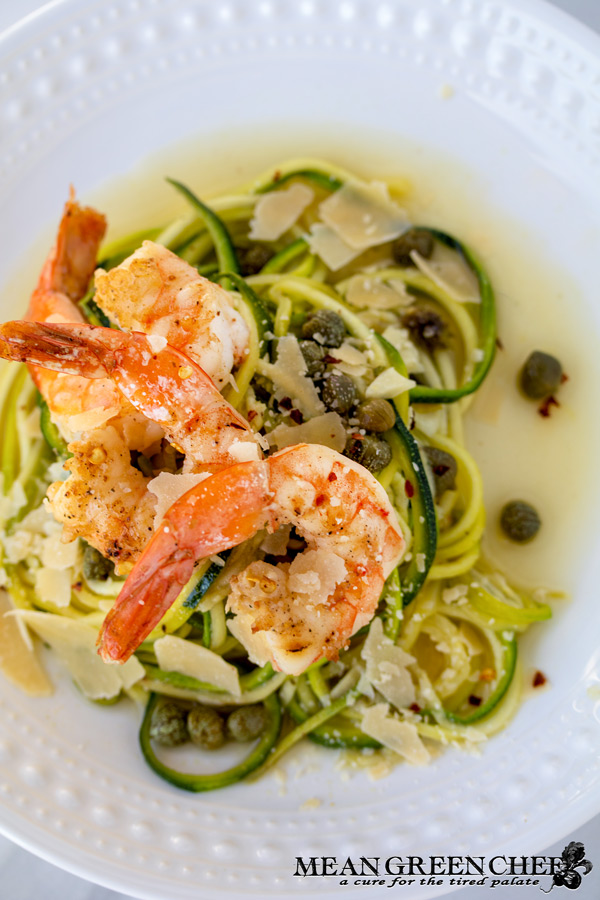 Buy Frozen! Say what? Yep, this is one of those blue moons where I am telling you that frozen is a better option than buying the shrimp stacked up laying in the tray in the seafood section. Even living on the Gulf, we purchase frozen shrimp about 90% of the time. 
When the shrimpers haul  huge net fulls of shrimp from the Gulf, they throw those lovely little bites on ice straightaway, freezing them within a short time of being caught.  Preserving their freshness, and flavor until they're ready for the sauté pan or whichever way you whip up a batch!
The "fresh" shrimp in the seafood section have probably gone through this process too. Except they have gone through the defrost process, which means their freshness is fading as they sit and wait to be purchased as the hours' pass. 
Unless you meet the shrimper at the docks, which we can do here in Florida when we find the time! Frozen shrimp is a better and safer bet for purchase. 
If your shrimp smell funky, such as an ammonia-like or iodine odor, or feel slimy and/or soft and mushy are bad. Return them to the store ASAP! you should not have this issue with frozen shrimp that have been defrosted correctly. 
How Do I Prep Shrimp for Cooking?
Defrost shrimp overnight in the refrigerator, or remove shrimp from packaging and place in a bowl of cold water. Allowing a stream of cold water to run into the bowl while the excess water goes down the drain. If using the water method, shrimp should defrost in 10-15 minutes. 
Do not defrost in the microwave or leave them to sit on the counter! 
Chef's Tip: Brine those little Shrimps! It improves the texture and flavor of just about any shrimp. Add 1/2 cup Diamond Kosher sea salt (90.4g) and 1/4 cup (50g) sugar to 2 cups of rapidly boiling water until dissolved. Pour into a large bowl filled with ice water and add 1 pound of shrimp. Let them soak in the brine, add ice as needed or refrigerate for 2 hours. Rinse and proceed with cooking.
Peeling: Remove the shell before cooking if you're serving in a hot dish such as this one. You can leave the shell on if you're grilling or whipping up a shrimp cocktail. Also, keep in mind that shrimp shells are a great addition to a seafood base! After peeling you can rinse them and toss em' into the freezer to make seafood stock at a later date. 
Deveining: I recall deveining shrimp with my grandfather, it's something I have always done and will continue to do. Although I know cooks that choose not to. I suggest that it becomes part of your shrimp cleaning ritual. If you have never cleaned shrimp, here's an article from Fine Cooking on how to do so!  
Remember that shrimp cook fast! So toss them in at the end and stir occasionally, they cook in about 3 minutes. 
Please Pin Our Recipe to Share With Your Friends!
How to Saute Zucchini Noodles
Wash 3-4 medium-sized zucchinis, peel if they're not organic. Send them through you spiralizer and toss with extra virgin olive oil, Kosher sea salt and freshly cracked black pepper. Heat a heavy-bottomed sauté pan over med-high heat add spiralized zucchini noodles and cook, stirring about 3 minutes. We like ours still crispy, you can toss in additional garlic and red pepper flakes if you want an extra kick in the pants! 
How to Make Spicy Shrimp Scampi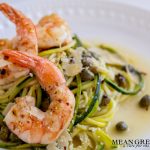 Spicy Shrimp Scampi
We like things a little fiery sometimes, so I created this Spicy Shrimp Scampi over a bed of zucchini noodles. After all, scampi is open to interpretation! Sauteéd shrimp tossed with EVOO, red pepper flakes, a little red onion, smashed garlic, capers and a big pour of dry white wine.
Category:
Dinner, Lunch, Main Course
Cuisine:
American, Italian
Keyword:
Shrimp, Spicy, Zoodles
Ingredients
1

lb

large shrimp,

peeled + deveined

1/4

cup (59ml)

olive oil,

extra vrigin

1-2

teaspoons

red pepper flakes,

or to taste

1/2

red onion,

fine dice

5

cloves

garlic,

smashed + peeled + diced

1/2

cup

capers,

with a little brine

1

lemon,

zested and then juiced

1/2

cup (120 ml)

dry white wine,

sub vermouth
Instructions
Peel and devein shrimp, brine if desired (instructions above) and then drain and pat dry.

Heat heavy-bottomed sauté pan over med-high heat. Add the EVOO and allow to come to heat for 30 seconds.

Add red pepper flakes, and red onion and sauté for about 5 minutes until the onions become fragrant and translucent.

Toss in the smashed garlic and capers sauté for about 30 seconds, stirring until fragrant and lightly toasted. and the moisture has evaporated.

Add the shrimp and lemon zest to the hot pan and brown on all sides, about 1 minute.

Carefully add the wine and lemon juice to deglaze the pan. Remove from heat and serve over fresh zucchini noodles or egg yolk pasta.
Recipe Notes
Prep time is approximate. 
Can be served over zucchini noodles or fresh egg yolk pasta if you want a heartier dish. 
Did You Make A Mean Green Chef Recipe?
We LOVE seeing your creations, don't forget to tag us @meangreenchef or #meangreenchef so we can see what's happening in your kitchen!
Also Shared on These Great Link Parties!