The Best Toffee Recipe in town, just like the fresh batches whipped up in your favorite candy store. Soft and buttery with a crisp bite that literally melts in your mouth.
Plus it's so EASY to make a batch or two! We've amped up the flavor by adding our favorite Pan Roasted Pecans. The dash of olive oil and sea salt adds richness and depth to the chocolate, buttery goodness of this candy.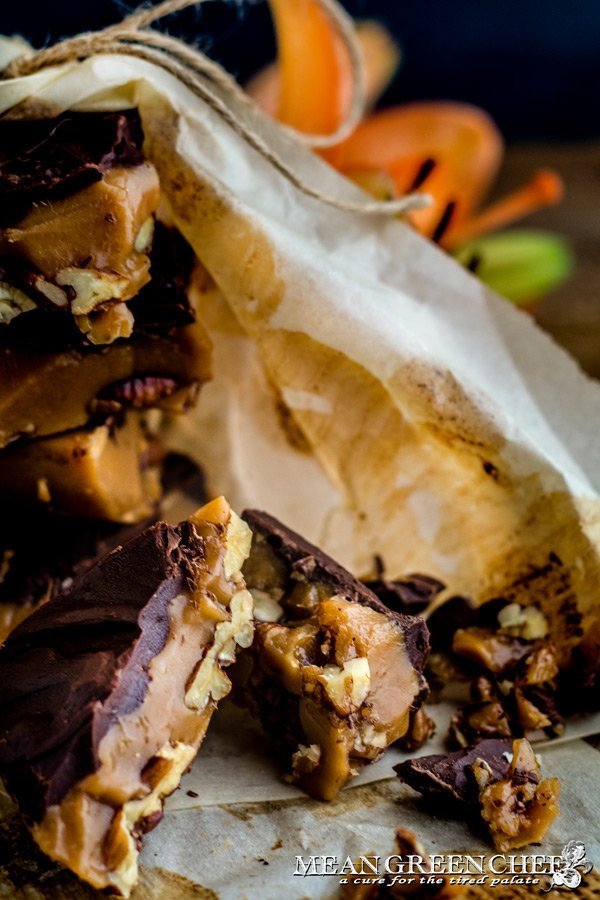 Toffee is a confection made by caramelizing sugar or molasses (creating inverted sugar) along with butter. The mixture is heated until its temperature reaches the hard crack stage 300°F/149°C to 310°F/154°C. While being prepared, toffee is sometimes mixed with nuts or raisins.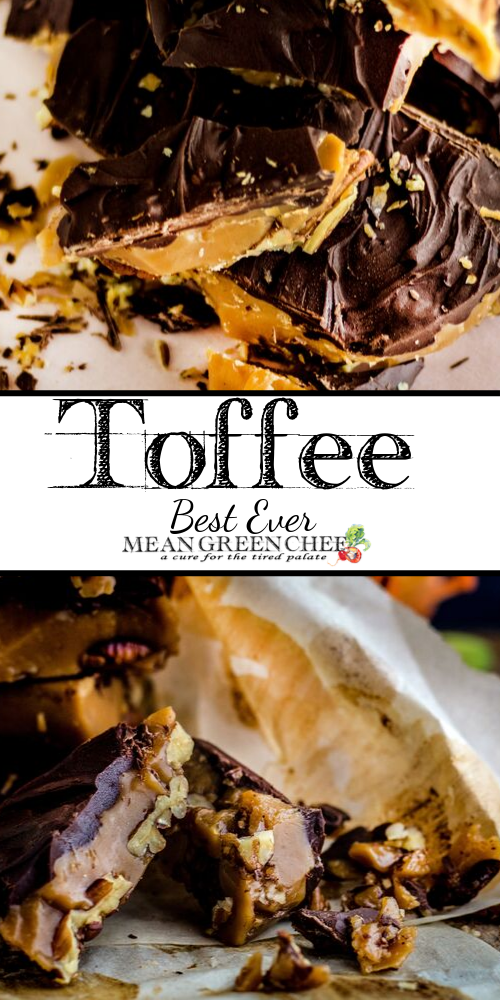 What Is the Difference Between Caramel and Toffee?
Caramel is sugar and cream or milk, with butter occasionally in the mix. Caramel is cooked at a lower temperature, about 248°F/120°C, while toffee is heated up to about 300°F/148°C to make it hard and crunchy.
You may notice that this recipe is double thickness, you can easily halve it to create a thinner alternative. Such as the beloved Skör Bar®, but this is the perfect balance of candy and pecans as we see it.
This Toffee is an American version (also known as Buttercrunch) of the confectionery, made with white sugar and added pecans. Traditional British toffee is crafted with brown sugar and you won't find any nuts nestled in the shards of sweetness. And yes it's delicious too! But we like the added bite and taste of the pecans.
How Long Is Homemade Toffee Good For?
Our toffee candy is good for at least two weeks if stored at room temperature. If your home is a bit on the warm side or if you're holding onto it for gift-giving, store it in the fridge to give it a couple of extra weeks it will stay perfectly fresh!
Yes! Toffee freezes very well. Make a batch, break it up and then store it in an airtight container in the freezer for some winter snacking, or give it away as a perfect gift for the holidays!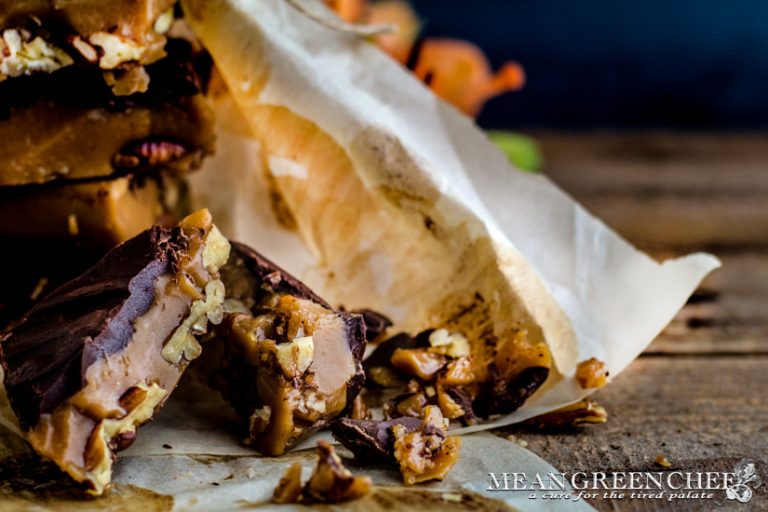 Buy a Candy Thermometer (if you don't have one)
There are many things that can be prepared in the kitchen by eyeballing, seasoning and spices can be added here and there to taste. BUT, creating candy is not one of them. This recipe absolutely must be the precise temp. We bring the sugar syrup to exactly 300°F/148°C Hard Crack for this recipe. Remember to be careful while cooking and handling the hot syrup!
Warning: Working with bubbling hot sugar can be dangerous. Sugar burns are extra painful because the sugar sticks to your skin, so please be careful when working with sugar syrup.
Please Pin our Recipe to Share with your Friends!👇🏼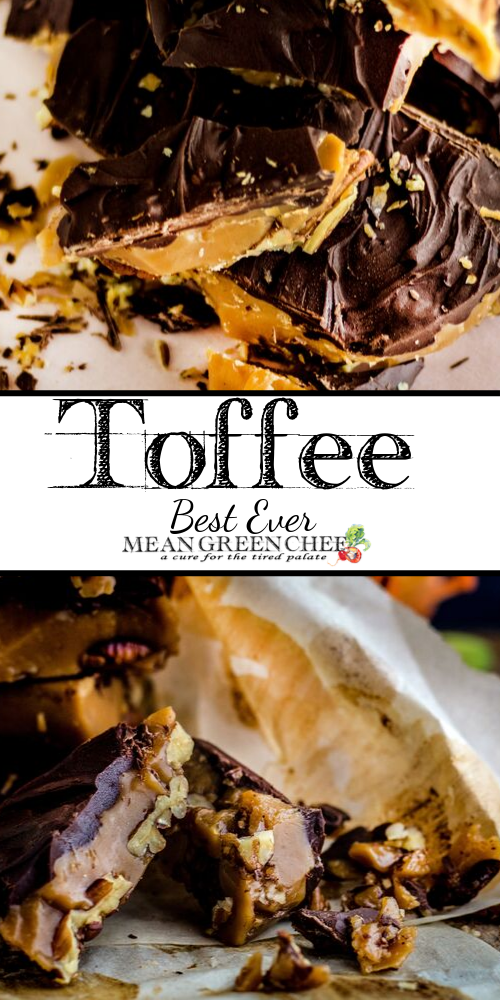 How to Make the Best Toffee Ever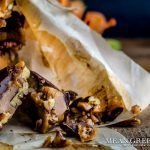 Best Toffee Ever
The Best Toffee Recipe in town, just like the fresh batches whipped up in your favorite candy store. Soft and buttery with a crisp bite that literally melts in your mouth.
Keyword:
Toffee, Toffee Recipe
Ingredients
2

cups (250 grams)

Pan Roasted Pecans,

whole or chopped

2

cups (454 grams)

butter,

unstalted

2

cups (400 grams)

sugar

1

teaspoon

Pink Himalayan Sea Salt or Kosher Sea Salt,

finely ground

2

teaspoons

pure vanilla extract

2

cups (350 grams)

chocolate chips,

milk chocolate, semisweet, or white
Instructions
Line a 9x13 inch baking dish with parchment paper. Spread the Pan Roasted Pecans in a single layer on top of the parchment.

Add the butter, sugar, and sea salt to a heavy-bottomed saucepan. Bring to a boil over medium-low heat, stirring frequently with a flat bottomed wooden spoon until the sugar has dissolved. Once the candy is boiling, continue to stir slowly and evenly, until the candy reaches 300°F/148°C Hard Crack Stage (on a candy thermometer).

Once the mixture has reached the Hard Crack Stage 300°F/148°C, remove from the heat and stir in the pure vanilla extract. Mix until thoroughly combined. Carefully pour the candy over the Pan Roasted Pecans, spreading with the back of a spoon to even out if necessary.

Allow the candy to sit undisturbed for 3 minutes, then pour the chocolate chips over the top. Cover with foil and allow them to sit for 5 minutes, remove the foil and spread the softened chips into an even layer. Place in the refrigerator and allow the toffee to chill for 2 hours.

Remove from the fridge and lift the parchment paper out of the baking dish onto a cutting board. Use a sharp knife to score and break the toffee into smaller pieces.
Recipe Notes
Prep time is approximate. 
Store homemade toffee between sheets of parchment paper in an airtight container in a cool, dry place. 
Looking for more easy candy recipes? Then you'll defiantly want to check out our super popular Easy Marshmallow Recipe!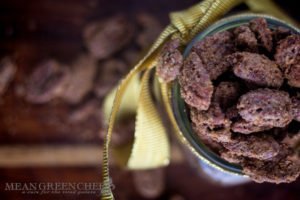 Candied Pecans always make a great gift during the holiday season too, plus they're super easy to make too!
Did You Make a Mean Green Chef Recipe?
We 💙 LOVE 💚 seeing your creations! So don't forget to tag us @meangreenchef or #meangreenchef so we can see what's happening in your kitchen!
Also Shared on These Great Link Parties!