These Meyer Lemon White Chocolate Chip Cookies may be the perfect bite. Tempting sweet lemon cookies, with hints of white chocolate and a touch of sea salt. They have become a favorite and are frequently requested for parties.
Be sure to visit the Pin Junkie every Thursday night at 9pm EST, best link party around!
While Meyer Lemons are hard to source occasionally, you can easily swap them out and use Eureka or Lisbon lemons. Which can be readily found in your local produce section year round. Although a tad more bitter than our favorite Meyer lemons, they still create an irresistible cookie!
Keep an eye out, come the 2nd or 3rd week of December, which is when shipments of Meyer Lemons begin. if you've never had them before, you're in for a treat! A few facts to inspire you to scoop some up and take them for a taste drive!
What to look for: Meyer Lemons are smaller and more round than regular lemons. With a deep yellow, almost orange skin and dark yellow pulp. Their rinds have a spicy-floral smell that reminds us of holidays at Grandma's house.
Taste: Meyer Lemons are also less acidic tasting than regular lemons. They have a distinct flavor and are sometimes referred to as "lemonange", as a Meyer Lemon is believed to be a cross between a lemon and mandarin orange. They are actually sweet enough to enjoy eating their raw segments.
Availability: You'll see Meyer Lemons hitting your local produce shelves the 2nd or 3rd week of December, stretching into late May. If you have extras, you can freeze their juice and zest!
When you can't find Meyers, a mixture of 2 parts lemon juice and 1 part tangerine juice comes close to the flavor.
Can I Substitute Regular Lemons for Meyer Lemons?
Yes, in most cases. Just remember that regular lemons lack the sweetness of Meyer lemons, so the cookies will be tartly lemon but still amazing. Both Meyer Lemons and regular lemons can be used in similar ways. They can be juiced and pulped for cocktails and spritzers, and to make homemade salad dressings too. 
Tips for Making the Best Lemon Cookies
If you have the option allow the dough to chill overnight. Coming from a family of Bakers we have been doing this since the break of dawn daily. it's an important step and yields the best results every time. Giving the cookie dough time to marry and allow the flavors to blend and the dough to firm and bake into puffy golden perfection.
Don't skip rolling your chilled dough in powdered sugar, it creats the most amazing glaze like crispy crust. See photos!
If you bake often be sure to invest in a scale, it will revolutionize your recipes! Honestly it doesn't get more accurate than measuring by weight and you'll get to used to it very quickly. 
Remember when you're measuring flour in any recipe, don't pack the flour. Such as scooping your measuring cups into the flour bin which leads to there being to much flour in the cookie dough.
Which in turn results in thick cookies that don't spread out and are too crumbly. The best method of measuring flour is always a scale but if you don't have one the scoop method below works well.
Scoop Method for Measuring Flour
Fluff the flour in the container with a spoon, unfluffed flour can actually result in to much flour in the cookie dough, not spreading correctly.
Use the spoon to ladle the flour into your measuring cup. Don't pack, or tap it into place, just ladle the flour in, up to the top.
Then scrape off the excess at the top with a straight edge, such as an offset spatula, bench scraper or even the back of a butter knife.
If you haven't been doing this, then give it a go and you'll see an instant improvement in any batch of cookies you create. 
Please Pin Our Recipe to Share with Your Friends!
Do you like this Meyer Lemon Cookie Recipe? If so please pin to your favorite Cookie or Baking Pinterest Board. Thank you we appreaciate you helping us grow!
How to Make Meyer Lemon Cookies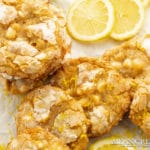 Meyer Lemon White Chocolate Chip Cookies
Overnight Dough Chill (optional 1 hour will do)
These Meyer Lemon White Chocolate Chip Cookies may be the perfect bite. Tempting sweet lemon cookies, with hints of white chocolate and a touch of sea salt. They have become a favorite and are frequently requested for parties.
Keyword:
Lemon, Meyer Lemon, Powdered Sugar
Servings
:
24
cookies approx.
Ingredients
3

cups (360 grams)

all-purpose flour

1

teaspoon 

Pink Himalayan Sea Salt or Kosher Sea Salt,

finely ground

1/2

teaspoon 

baking powder

1

teaspoon

baking soda

1

cup (240 grams)

unsalted butter,

softened

1

cup (180 grams)

brown sugar,

packed

1

cup (200 grams)

sugar

2 

teaspoons

pure vanilla extract,

sub vanilla paste

2

large

organic eggs,

room temperature

zest of 1 Meyer lemon,

zest and then juice the lemon

1

Tablespoon 

Fresh Meyer Lemon Juice

2

cups (300 grams)

white chocolate chips

1/2

cup (50 grams)

confectioners' sugar (powder sugar)
Instructions
Using a medium bowl, whisk together the flour, salt, baking powder, and baking soda until well combined. Set aside.

In another mixing bowl, beat together the butter, brown sugar, and sugar until light and fluffy.

Then add the eggs 1 at a time and beat until fluffy, next you'll combine the vanilla extract, lemon zest, and lemon juice until combined. Scrape down the sides of the bowl and mix again to make sure everything is thoroughly mixed.

Now add the flour mixture in two batches until well blended.

Pour in the white chocolate chips and mix them in by hand until incorporated into the dough. Wrap the bowl with plastic wrap and place in the fridge for 60 minutes and up to overnight.

Preheat oven to 350°F/175°C and line a sheet pan with parchment paper. Set aside.

Add the powdered sugar to a bowl or plate. Begin scooping out the cookie dough with a 1.97-inch cookie scoop or tablespoon, form chilled dough into approximately 1.5-inch sized balls and then roll in the powdered sugar until coated. Be sure that they are uniform in size for baking.

Place the rolled cookie dough 2-inches apart on the lined sheet pan. And bake for 10-14 minutes or until the bottoms of the cookies just begin to turn light golden and the tops of the cookies look matte (no wet sheen appearance).

Remove from the oven and allow them to cool for 5 minutes before transferring to a wire rack to finish cooling.

Serve with a tall cold glass of milk (if that's your thing) and enjoy!
Recipe Notes
Prep time is approximate.
Once completely cooled, cookies can be stored in an airtight container at room temperature for up to 5 days.
To ensure they remain soft add an uncooked flour tortilla on the top and bottom of the cookies.
Did You Make A Mean Green Chef Recipe?
We LOVE seeing your creations, don't forget to tag us @meangreenchef or #meangreenchef so we can see what's happening in your kitchen!
Also Shared on These Great Link Parties!