Roasted Pumpkin Puree done in a few easy steps! So much better than canned pumpkin puree and let me tell you it makes a seriously killer pumpkin pie (recipe incoming)!
But it's not just about the pie, there are so many fall recipes that can be created with this easy pumpkin puree. If you've always used canned do yourself and your recipes a favor and roast up a pumpkin. Trust me it makes all the difference! I'm partial to using a little drizzle of olive oil and a dash of Kosher salt when roasting, but it's totally optional.
Roasting deepens the flavor of the pumpkin and bakes off a considerable amount of moisture which the canned brands typically still have. Don't worry your baked goods will still be moist and tender.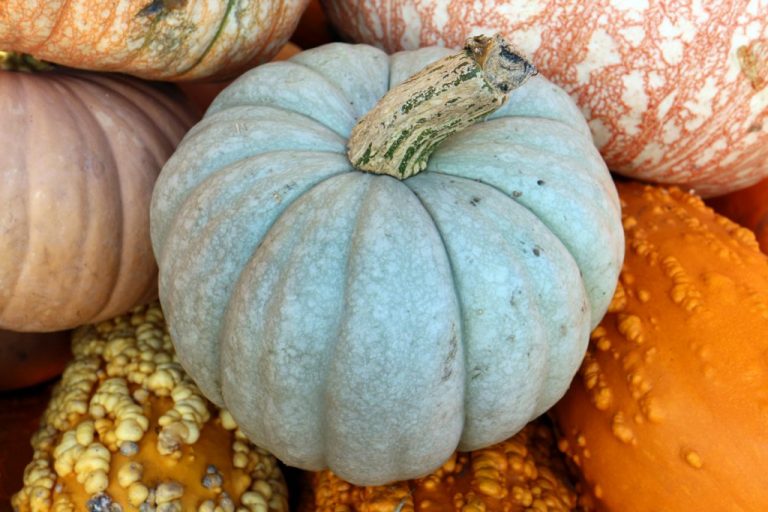 What's the Difference Between Canned Pumpkin and Pumpkin Pie Filling?
Pumpkin Puree: Also known as canned pumpkin it's cooked pumpkin with no additional flavorings. This is pumpkin in its purest form in the grocer, unless you are making your own like we are here. 
Pumpkin Pie Filling: Canned pumpkin sweetened and flavored with a variety of spices such as allspice, ginger, cloves, and cinnamon. It's the fast method of creating a pumpkin pie.
Yes. Pumpkins are squash and a member of the gourd family, the same family as melons, cucumbers, and zucchini. Technically a fruit, pumpkins are generally treated as a vegetable in most recipes.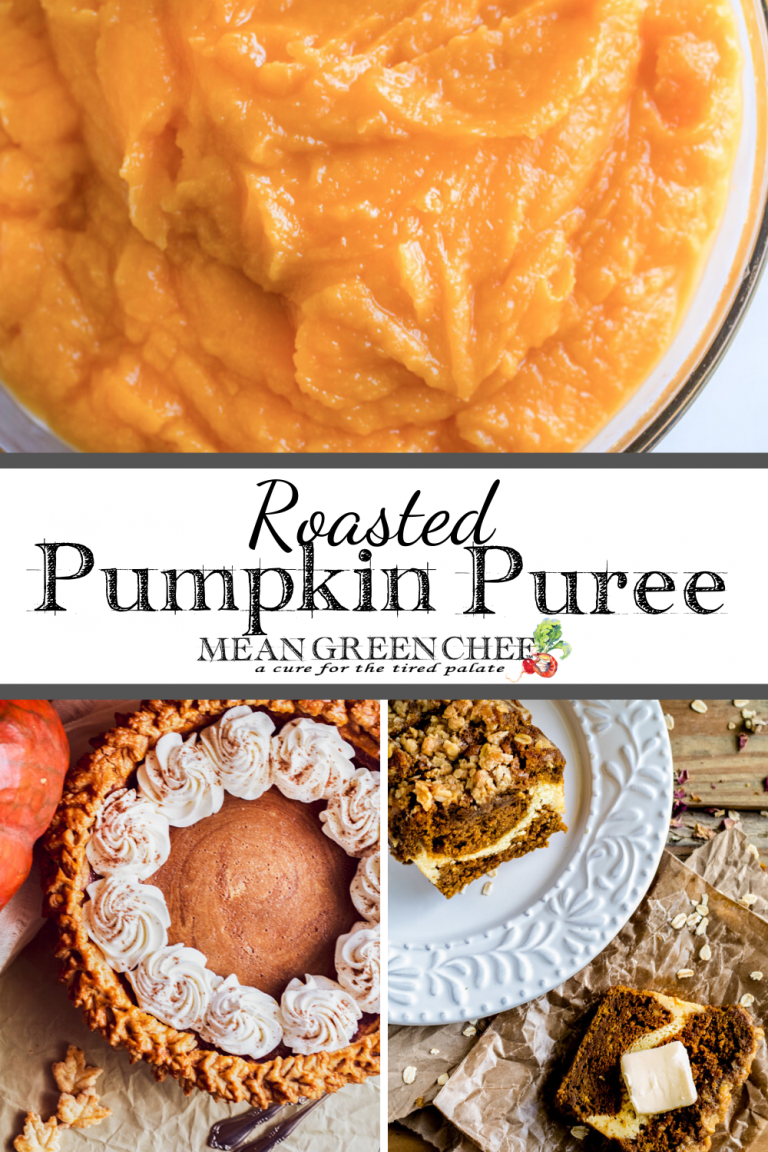 Can I Roast a Jack O Lantern Pumpkin?
Carving pumpkins are best left for carving, although you could most certainly roast and eat one. You'll find the texture is slightly stringy and watery, so they are best used to decorate your porch!
Where Did Pumpkin Carving Originate?
The tradition of carving pumpkins originated in Ireland. The Irish would carve jack-o-lanterns out of turnips to scare away evil spirits during the Celtic holiday Samhain, the night when spirits of the dead would walk the earth.
Which Pumpkin Is Best for Roasting?
When a recipe calls for pumpkin puree, you won't be roasting the standard field carving pumpkin. You'll definitely want to opt for Sugar Pumpkins, also called Sweet Pumpkins or Pie Pumpkins. Also referred to as "New England Pie Pumpkins
Sugar Pumpkins tend to be smaller than carving pumpkins. But there are still many size differences. Some are small, about the size of a grapefruit, some will be about the size of muskmelon, and some grow up to the size of a large watermelon.
Inside, they have thick, sweet, finely-textured bright orange sweet flesh. They have great flavor and are perfect for recipes calling for pumpkin puree.
How Heavy Do Sugar Pumpkins Weigh?
Small Sugar Pumpkins (aka Pie Pumpkins) are round, flattened at the top and bottom, and have a strong, smooth deep orange rind with moderate ribbing. They grow to be 8-10 inches (20-25 cm wide) and weigh 4-10 pounds (2.7-4 ½ kg).
How Much Pumpkin Puree Will a Pumpkin Make?
Here is how to calculate How Many Pumpkins are in a cup.
1 Pound (500grams) of Fresh Whole Pumpkin

 = approximately 1 cup (250 grams) of Roasted Pumpkin Puree.

5 pounds of Fresh Pumpkin

 = approximately 4 1/2-5 cups Pumpkin Puree. 

Plan to purchase 1/2 pound of pumpkin per serving as a side dish, remember that a significant amount of weight will be lost in the peel and seeds.

A 4-6 pound (1.8-2.7kg) is approximately enough to make one Pumpkin Pie and possibly a loaf of the best Pumpkin Cream Cheese Bread!
How Much Pumpkin Puree Do I Need to Replace a 15 Ounce Can?
15 ounce can of Pumpkin Puree = 1 3/4 cups freshly Roasted Pumpkin Puree or 425 grams.
Should I Strain Pumpkin Puree?
This is an optional step that makes a huge difference in consistency when baking! Line a fine-meshed colander with cheesecloth and then pour in the fresh pumpkin puree and allow it to sit for 10-15 minutes to drain the excess moisture. After the time has passed you can gently gather up the cheesecloth, pick up and squeeze out the rest of the water content.
Less water in your puree means better pumpkin pies! Pumpkin Pies are custard and a watery custard will never set which can cause a whole lot of Thanksgiving grief!
How Many Types of Pumpkins Are There?
There are 45 varieties of pumpkins! The round orange pumpkin may be the most recognized pumpkin, but pumpkins come in many different shapes, sizes, and colors. 
Varieties of Cooking Pumpkins
These are just a few of the great cooking pumpkins available. There are links to the Heirloom seed companies, not an affiliate, a fan!
Baby Bear Pumpkins: are a unique size and shape, and the deep orange, 1 1/2-2 1/2-lb. fruits are about half the size of a normal pie pumpkin. 
Fairytale Pumpkin:  French heirloom, has a deeply lobed, slightly squat shape and a magnificent mahogany brown color. Similar shape to Cinderella but more deeply ribbed with a thick, strong handle.
Winter Luxury Pumpkin: unique in appearance with a round shape and a velvety texture, the Winter Luxury is an old heirloom variety that weighs up to six pounds at maturity and is very sweet. Be mindful that this beauty doesn't store well, though.
Cinderella Pumpkins: medium to large in size, averaging 30-38 centimeters in diameter and weighing 15-35 pounds, and are round in shape with a flattened blossom and stem end. 
Long Island Cheese Pumpkin: has been favored for their smooth texture, and use in pumpkin pie. Their name is relevant to the squash's growing region along the eastern seaboard.
Blue Doll Pumpkin: exotic blue color, deeply ribbed fruit. Large vines produce excellent yields of 15-20 lb. fruit that have a blue colored rind and sweet, deep orange flesh. Blue Doll's flesh is good for pies, soups or canning.
Please Pin Our Recipe to Share with Your Friends!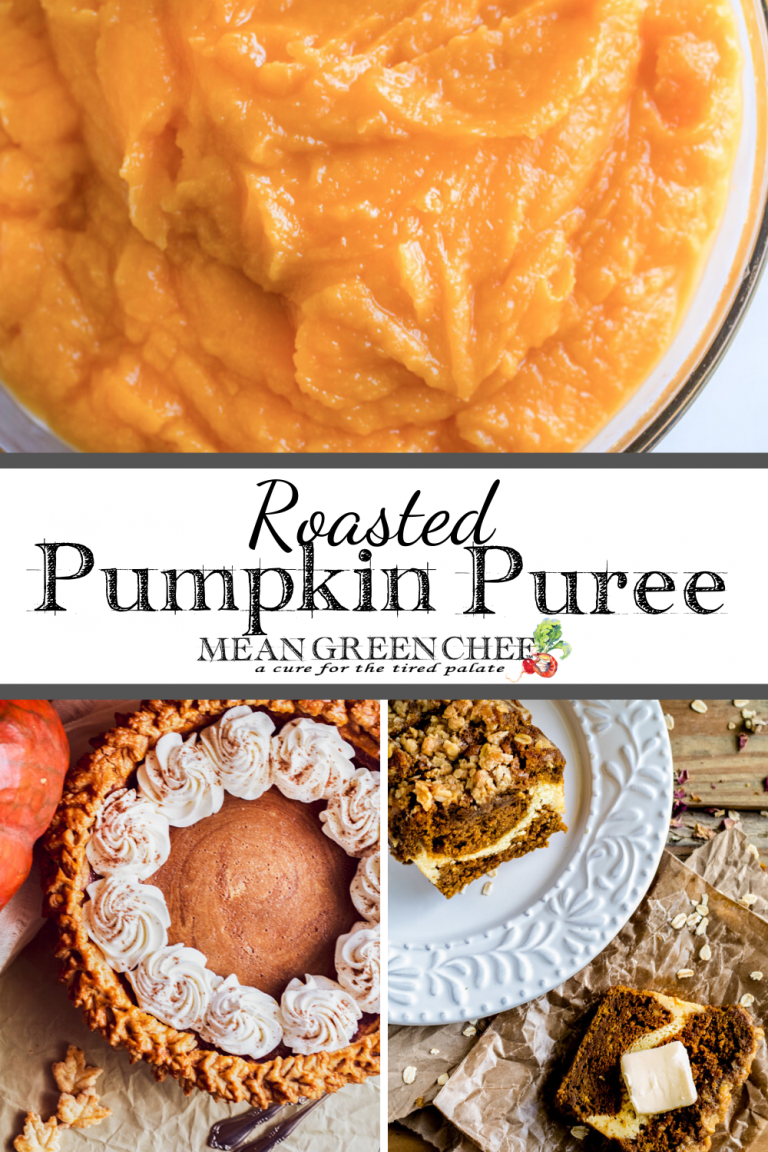 How to Make Roasted Pumpkin Puree
Roasted Pumpkin Puree
Roasted Pumpkin Puree done in 3 easy steps! So much better than canned pumpkin puree and let me tell you it makes a seriously killer pumpkin pie!
Category:
Cooking Techniques
Ingredients
1

6 pound

sugar pumpkin,

halved + pulp + seeds removed

1

Tablespoon

Extra Virgin Olive Oil,

optional

Kosher salt,

coarse ground (also optional)
Instructions
Preheat the oven 400°F/204°C. Line a baking sheet with parchment paper and set aside.

Scrub the pumpkin to remove any loose dirt and debris and pat dry. Using a super sharp knife slice the pumpkin in half.

Scoop out the seeds and fiber with a large metal spoon or ice cream scoop. Cut the fibers with kitchen shears if necessary. Reserve the seeds for another use.

Drizzle the flesh with olive oil and coarse Kosher sea salt. Invert, flesh side down on the parchment-lined baking sheets.

Roast until a paring knife can be easily inserted and removed from the pumpkin, 30 to 45 minutes. Test in several places to ensure doneness.

Remove sheet pan and cool the pumpkin for 1 hour, then using a large spoon, scrape the roasted pumpkin flesh from the sides of the pumpkin.

Add to your food processor and blitz until the flesh is smooth, roughly 3 to 4 minutes. Store in an airtight container in the fridge for up to 1 week or the freezer for up to 6 months.
Recipe Notes
Baking time will vary depending on the size of the pumpkin, once a knife eaily pierces the skin and through the flesh easily you can pull it from the oven.  
See above notes in post on types of pumpkins, sugar pumpkins will yield the sweetest meat. 
Store in an airtight container in the fridge up to 1 week and in the freezer up to 6 months.
To thaw frozen pumpkin puree, place it in the fridge overnight, or put the container of frozen puree in a bowl of cold water for 10-15 minutes.
If you love Pumpkins as much as we do then you'll def want to add our savory Pumpkin Chicken Chili to your fall menu….
Did You Make a Mean Green Chef Recipe?
We 
LOVE
seeing your creations! So don't forget to tag us @meangreenchef or #meangreenchef so we can see what's happening in your kitchen!
Also Shared on These Great Link Parties!