If you're looking for an impressive dinner, then look no further. Our Wild Alaskan Salmon en Croute is perfect for an informal gathering or intimate dinner for two. It can also be assembled up to 12 hours prior to baking, so make it the night before and then pop it in the oven and enjoy your company.
A luscious piece of salmon halved then spread with stone ground mustard and a savory herbed butter. You'll then layer the halves back together, wrap in a shortcrust pastry and bake for about 20 minutes or so.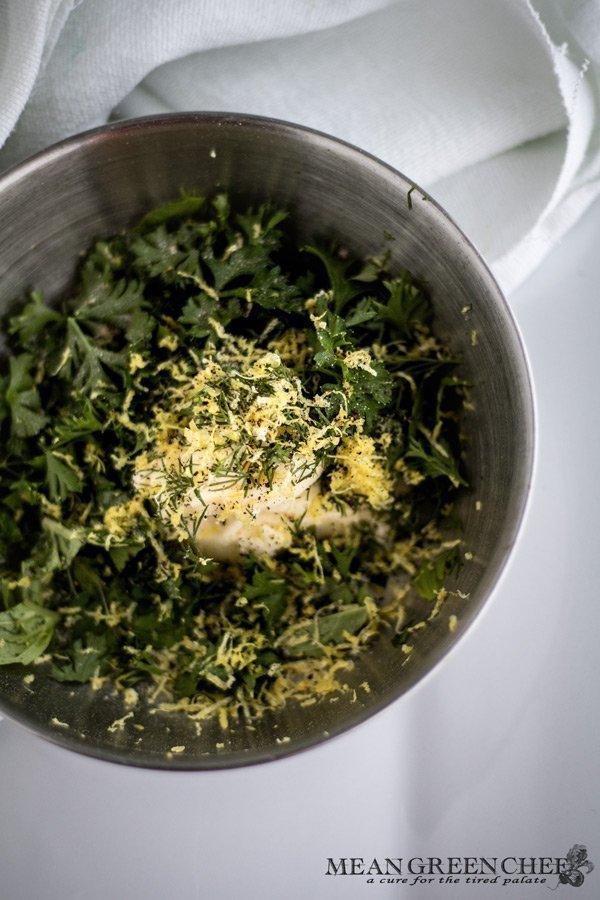 Salmon en Croute is actually a simple recipe to master and has very few ingredients. The French understand that fresh quality ingredients result in excellent dishes with superb flavor.
Although it's a bit of time hog for prep. Including making pastry crust (easy peasy in a food processor) takes 10 minutes or less and tastes better than frozen! So don't wimp out, you've got this!
There are actually several different approaches to make Salmon en Croute. Some are stuffed with ginger, raisins, and almonds. However, not a fan of raisins here! So we opted for the rich mustard and savory herbed butter version, tweaked from Gordon Ramsay's version.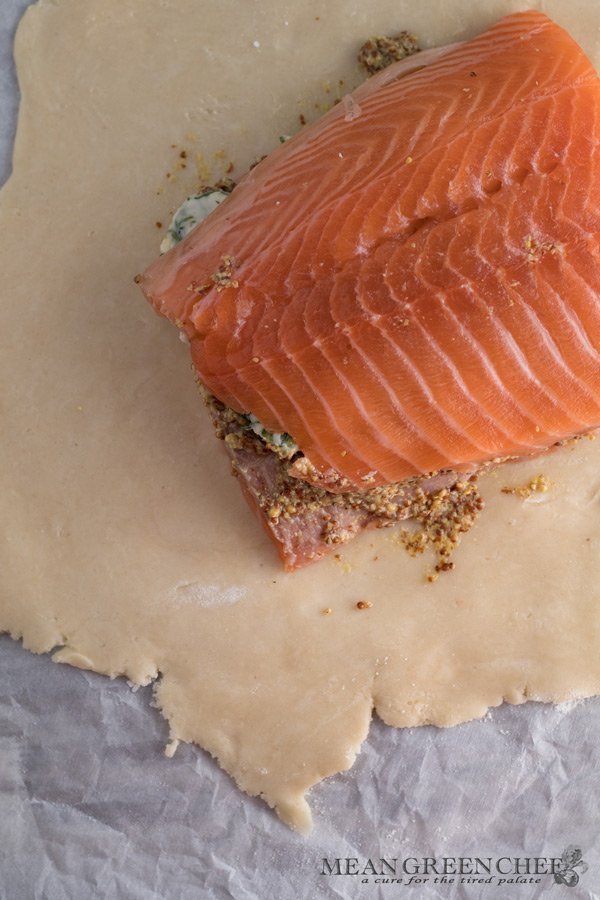 A French term pronounced "on KRŌŌT" indicating a food has been wrapped in pastry dough and then baked in the oven.
After being wrapped in Shortcrust Pastry, we mark a crisscross pattern in the dough before baking. Then brush it with an egg wash, which turns the crust a golden yellow. 
The egg wash results in a lovely golden pastry crust. 
We've served up our Salmon en Croute with Hollandaise Sauce, Minted Peas with Lemon, and Roasted Tri-colored baby potatoes. 
Please Pin Our Recipe to Share with Your Friends!
How to Make Wild Alaskan Salmon en Croute
Wild Alaskan Salmon en Croute
If you're looking for a show-stopping dinner, then look no further. Our Wild Alaskan Salmon en Croute is perfect for an informal gathering or intimate dinner for two.
Keyword:
Salmon en Croute, Salmon Wellington
Ingredients
2

pounds (900 grams)

side of Wild Caught Salmon,

skinned

2

Tablespoons

Whole Grain Mustard

all-purpose flour,

for dusting

1

egg yolk,

beaten
Herbed Butter
5

Tablespoons (71 grams)

butter,

unsalted softened

Handful

Parsley,

Fresh Curly or Flat

Handful

Basil,

Fresh

Small Handful

Dill,

Fresh

1

lemon,

zested

dash

Pink Himalayan Sea Salt or Kosher Sea Salt,

finely ground

dash

black pepper,

freshly ground
Shortcrust Pastry (Recipe above and Below!)
500

grams

Shortcrust Pastry
Instructions
Preheat the oven to 400°F/204°C and line a Sheet Pan with parchment paper.

Check the salmon for pin bones, removing any that you find with tweezers, then cut in half lengthwise, so you have 2 sides that you can sandwich back together. 

Mix the softened butter with the parsley, basil, dill, lemon zest, Kosher sea salt, and freshly cracked black pepper.

Pat the salmon fillets dry with a paper towel, then season lightly with salt and pepper. Spread the herb butter over one fillet, and the mustard evenly on the other fillet. Sandwich the two salmon fillets together, in opposite directions so both ends are of an even thickness.

Roll out the pastry thinly on a lightly floured surface to a rectangle, the thickness of a nickel coin and large enough to enclose the salmon. Put the salmon parcel in the center of the pastry and brush the surrounding pastry with egg. Bring up the edges, trimming off any excess, and tuck them in before folding the rest of the pastry over to form a neat parcel. Carefully turn the whole thing over so that the seam is underneath and place on the parchment-lined sheet pan.

Lightly score a cross-hatch pattern using the back of a knife. Cover loosely and chill for 15 minutes. Brush the pastry with beaten egg.

Bake the salmon for 20-25 minutes, until the pastry is golden and crisp. To test for doneness, insert a skewer into the middle. It should feel warm for medium cooked salmon. A piping hot skewer indicates that the fish is well done. We shoot for medium doneness with this dish every time.

Allow the salmon to rest for 5 minutes, then cut into portions using a straight-edged knife. Wiped clean between slicing.
Recipe Notes
Prep time is approximate.
Salmon en Croute can be prepared a day ahead and then baked the next day.
Best eaten same day.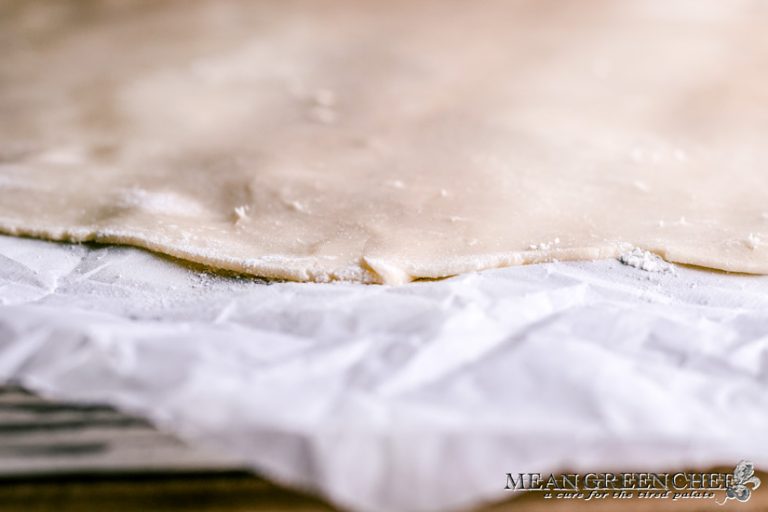 Did You Make a Mean Green Chef Recipe?
We 💙 LOVE 💚seeing your creations! So don't forget to tag us @meangreenchef or #meangreenchef so we can see what's happening in your kitchen!