Our Pear + Roasted Almond Cream Cheese Tart is truly a special dessert. It whispers Autumn in warm and toasted tones and is the ultimate dessert to end an intimate dinner party.
A simple Tart that can be assembled and baked in less than an hour. We've dressed it in Candied Glass Pears, drizzled it in a Fresh Pear Coulis and finished it off with a dollop of Vanilla Bean Chantilly Cream.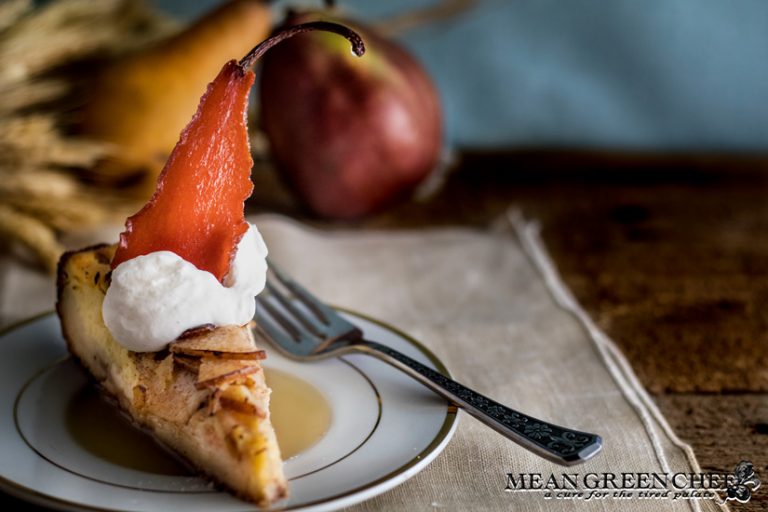 Do make sure that you wrap your springform pan in heavy-duty foil, as per the instructions! The butter can find its way out of the bottom of the pan and will scorch on the bottom of the oven. The foil keeps it contained and your oven clean and your house smoke-free!!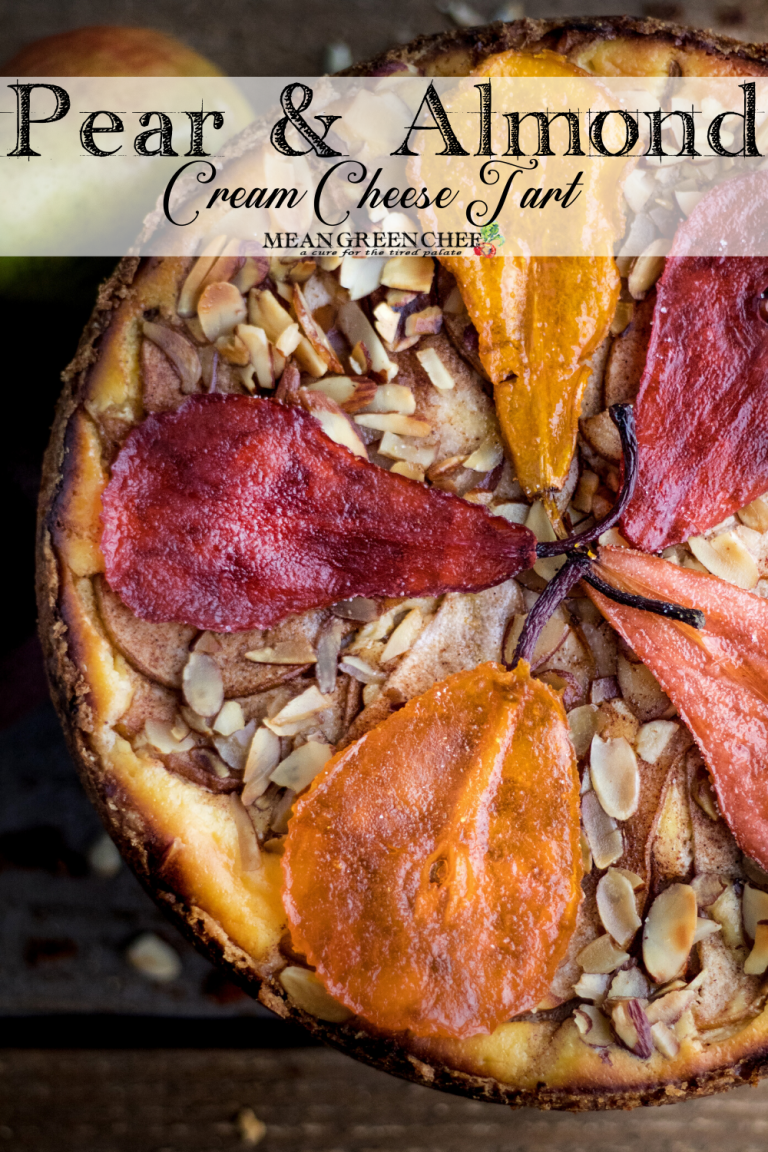 A few easy steps that yield a dessert beyond compare. The hint of sea salt from our Pan Roasted Almonds cuts the sweetness of this tart perfectly. 
While this isn't a cheesecake it does have some cheesecake like qualities.
Always Chill after Cooling: Once your tart has cooled off, be sure to allow it to chill overnight. This practice ensures that the tart has the proper texture and is set properly. Cutting this tart before chilling will give you a custard-like quality, which is not what we are looking for when serving. Chilling produces a rich, smooth, mouth-watering texture just like with a cheesecake.
Prior to cutting: hold a long non-serrated knife under hot tap water for a minute. Wipe the knife off on a clean kitchen towel before making every cut.
Please Pin Our Recipe to Share with Your Friends!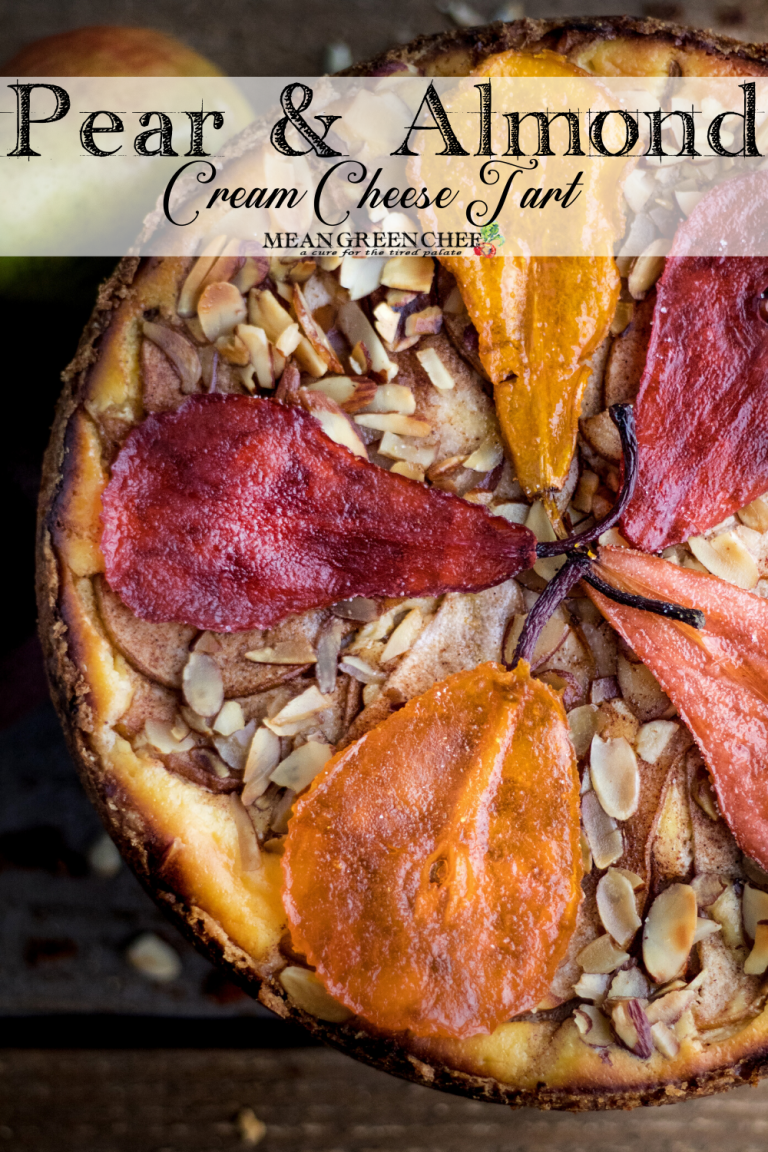 Freshly baked tart will keep in the fridge for about 1 week, securely covered with plastic wrap.
Tarts also freeze extremely well! Once your tart is set and firm, set in the freezer for about an hour. Then remove and wrap tightly with plastic wrap and then a layer of heavy duty aluminum foil. properly stored it will preserve its highest quality for 2 months.
To serve after freezing, thaw for a few hours on the counter top or overnight in the fridge. Then cut, top and serve!
How to Make Pear & Almond Cream Cheese Tart
Pear Roasted Almond Cream Cheese Tart
Our Pear and Roasted Almond Cream Cheese Tart is truly a special dessert. It whispers Autumn in warm and toasted tones and tastes. It's the perfect dessert to end an intimate dinner party.
Keyword:
Pear Roasted Almond Cream Cheese Tart
Ingredients
Crust
1

cup (227 grams)

butter

softened

3/4

cup (150 grams)

sugar

2

cups (240 grams)

all-purpose flour
Cream Cheese Filling
16

oz. (2 blocks)

cream cheese

softened

2/3

cup (130 grams)

sugar

2

large

eggs

room temperature

1

teaspoon

pure vanilla extract
Topping
2/3

cup (130 grams)

sugar

1

teaspoon

cinnamon

5

cups

sliced pears

about 5 medium pears

1/2

cup

pan roasted almonds

see above link for directions
Instructions
Preheat the oven to 425°F/218°C. Wrap a 9-inch Springform Pan in heavy-duty aluminum foil and line with parchment paper. Set Aside.
Crust
Beat the butter and sugar until fluffy and add the flour. Spread into the bottom and halfway up the sides of the parchment lined 9-inch Springform Pan, you can use the back of a metal spoon to smooth it out and spread it out uniformly. (it is a naturally sticky dough, you can also run the spoon under hot water and wipe off, then spread).
Filling
Beat the cream cheese and sugar in a large bowl until well blended on medium speed. Add the eggs one at a time until blended, then add the pure vanilla extract and blend until combined.

Pour over the crust and spread out evenly.
Topping
Mix the sugar and Cinnamon, set aside. Slice the pears and then gently dip each slice into the cinnamon and sugar mixture coating both sides. Then arrange on the top of the filling. Sprinkle with the Roasted Almonds.
Baking
Place in the preheated 425°F/218°C and bake for 10 minutes.

After 10 minutes has passed lower the oven temperature to 350°F/176°C and bake for an additional 25 minutes or until set. remove from the oven and allow to cool on a wire rack for 3 hours.
Recipe Notes
Prep time is approximate.
Highly suggested that you refrigerate overnight after cooling completely.  
Run a thin rubber spatula around the outside of the tart to loosen the sides from the pan. release the springform pan. Slice, garnish and serve. 
Did you Make a Mean Green Chef Recipe?
We 💙 LOVE 💚 seeing your creations! So don't forget to tag us @meangreenchef or #meangreenchef so we can see what's happening in your kitchen!
Also Shared on These Great Blog Hops!