Check out our Candied Glass Pears for an ultra-easy garnish or decoration! We used this bunch to adorn our Pear and Almond Torte with Fresh Pear Coulis.
Not only are these pears an elegant way to top a dessert, they're also delicious and fun to make. The longer you leave the pears to soak in their colored syrup bath the more intense the color becomes. These were soaked overnight, imparting rich fall colors. 
You can use pears and apples alike, choose fruit that is still firm to the touch and not yet fully ripened. We used Bosc, Bartlett and Red Anjou Pears.
Mandoline Slicer
Pot(s) if using more than 1 color
Sheet Pans
Parchment Paper
Sugar
Gel Food Color or Natural Food Dyes
Rack for finishing the drying process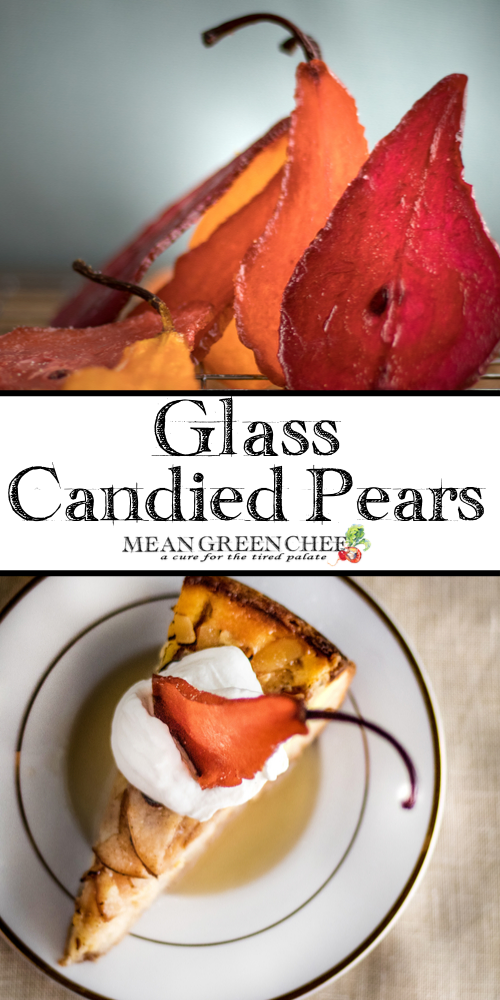 If you have great knife skills you can slice the pears by hand. However. we highly recommend the purchase of a Mandoline Slicer. It has a ton of other uses too! And you can't beat it for speed and uniformity in slices, which means not only will your time be cut in half (they are super fast) your dishes will also cook evenly!
What Can I use a Mandoline Slicer for?
Scalloped Potatoes
Potatoes Augratin
French Fries
Coleslaw
Fruit & Veg Chips
Carrot ribbons
Root vegetable salads
Grate cheese
Thinly slice citrus fruit for Sangria
Slice tomatoes perfectly for beautiful Capresé Salads
How to Use a Mandoline Slicer
Be sure to use your Mandoline slicer correctly! Blades are sharp and dangerous, just like knives. We do suggest you use the blade guard for optimum safety. Our friends at ChefSteps shows you how amazing this kitchen tool is, we use it at least once a week and they're cheap too! But do be safe!
Please Pin Our Recipe to Share with Your Friends!👇🏼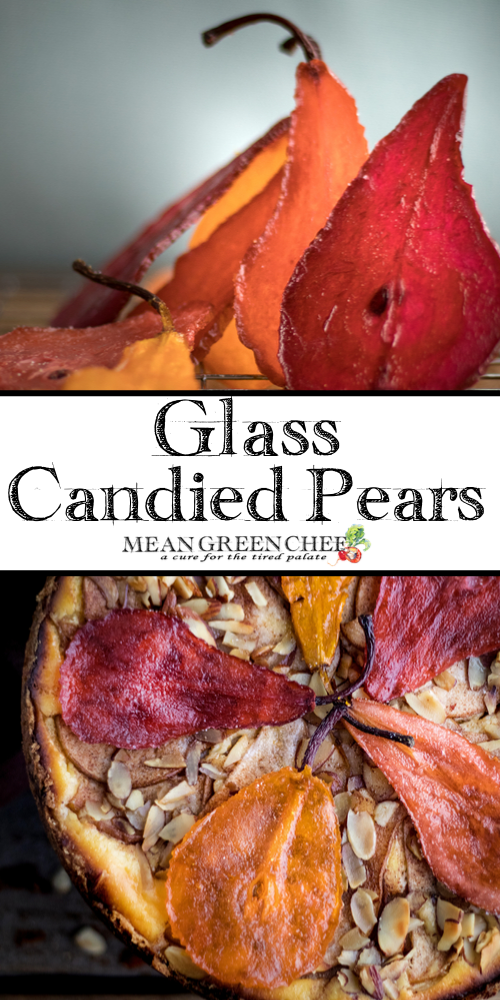 How to Make Candied Glass Pears
Colored Glass Pears
Check out our Candied Glass Pears for an ultra-easy garnish or decoration! We used this bunch to adorn our Pear and Almond Torte with Fresh Pear Coulis.

Category:
Desserts, Garnish
Keyword:
Colored Glass Pears
Ingredients
6

Pears

or however many you wish to color

1

cup (200 grams)

sugar

2

cups (500 ml)

water

food coloring

natural or gel
Instructions
Syrup
Add 1 cup (200 grams) sugar to 2 cups water (500 ml) to a heavy-bottomed saucepan. Bring to a boil and add food coloring, the more color you add the more intense the color of your pears.

Carefully slice firm-fleshed pears to approx. 1-1.5 mm on a Mandoline Slicer. Add the pears to the boiling syrup and reduce the heat to medium and cook for 10 minutes. Turn off the heat, slide off of the burner and allow the pears to soak in the syrup between 1 hour and overnight. (Pears shown were soaked overnight).
Drying Process
Preheat the oven to 200°F/93.3°C and line sheet pan(s) with parchment paper. Remove the pears from the syrup allowing the excess liquid to drip off. Lay the pears out onto the parchment lined sheet pans.

Allow the pears to cook in on the oven for 2 hours, checking at 30-minute intervals. The pears should remain flexible, you don't want them turning into chips. They will harden even more after removing them from the oven.
Recipe Notes
Prep time is approximate. 
Store pears in an airtight container with parchment paper in between layers. Will maintain optimum freshness up to 3 months. 
If you're looking for other Fall Recipe Inspiration then you'll definitely want to check out our Pumpkin Cream Cheese Bread….Starbucks has nothing on this recipe, be sure to make 2 loaves!!!
Do you like Old Fashioned Molasses Cookies? Crispy, sugary bite on the outside and chewy spice on the inside, these are amazing cookies and perfect for fall too!
Did You Make a Mean Green Chef Recipe?
We 💙 LOVE 💚 seeing your creations! So don't forget to tag us @meangreenchef or #meangreenchef so we can see what's happening in your kitchen!
Also Shared on These Great Link Parties!