Red Wine Pot Roast made in the Instant Pot, juicy fork-tender results with amazing umami flavor impact! A nearly instantaneous Sunday Roast any day of the week, even grandma would approve.
I love being in the kitchen and spend hours a day creating and cooking but we all need a quick meal or a break sometimes! Plus when I walk into my butcher's shop and spot a perfectly marbled chuck roast I make a run for it and the IP is now the go-to method for a perfect roast!
Please note: We make mashed potatoes whenever we serve roast. However, if you want to add them directly to the IP then toss in 1lb of  scrubbed and halved red potatoes when adding all of the vegetables and herbs.
A pot roast is open to many cuts, but the one we choose and most recipes you'll find, utilize a Boneless Chuck Roast. It's the Rolls-Royce of roast cuts, seriously the chuck roast is invariably well marbled leading to fabulous flavor and texture.
The Boneless chuck roast does cost more, but it makes up for it in flavor and texture. It's also far cheaper than pricer loin or fillet cuts which would be a total waste of money when making a roast.
How to Select the Perfect Roast
Look for these key elements in a great roast. If you want a succulent cut of meat that will melt in your mouth after cooking in the Instant Pot or Roasting, choose a piece with as many of these factors as possible.
Lots of connective tissue
A good amount of fat
Coarse muscle grain with multiple muscle groups, these are the hardworking muscles which makes them the tough initially. 
Connective tissue and fat: Desirable for tough cuts of meat that require an extended cooking time. Connective tissue mostly comprises collagen, a family of proteins that can be unwound into delicate gelatin when cooked for sustained periods of time. Gelatin is what creates the succulence that's the intoxicating flavor and texture in braised meats.
Chef's Tips:
Most connective tissue is too subtle to see, but the silvery sheath that surrounds and separates individual muscles is a visible illustration of connective tissue.
Fat also tends to encircle muscles and can be distinguished from connective tissue by its opaque appearance and waxy like texture when cold.
Ample fat is considered marbled and makes for a flavorsome cut, however, too much fat surrounding a cut of meat will just create unpleasant gristle in the final dish. We advise trimming away any excessive amounts of surrounding fat.
Muscle grain: Look for coarse meat grain, with bundles of fibers you can clearly see. This coarse grain is a sign that the meat was once a strong and hard-working muscle, so when cooked in the IP or traditionally over a low-and-slow fire, it will reward you with a succulent and tender braised texture.
Can I Cook a Roast in the Instant Pot?
Yes, you can! We've made them traditionally for years and once I made the plunge and purchased the IP it was one of the first recipes I converted. Let me tell you my roasts have always been on point flavor wise but there is something magical that happens when foods are cooked under extreme pressure. My flavors have never been better, I would never go back to the old method here. Which is something you'll rarely hear me say.
I Don't Have An Instant Pot Can I Cook This Red Wine Roast On The Stove?
Yes! Follow the directions in a heavy-bottomed Dutch Oven, cover and cook over medium-low heat for 3-6 hours depending on the size of the roast. You may need to add additional broth with this method.
But, get yourself an Instant Pot if you don't have one. You'll love the magic it creates!
How Long Should I Cook A Roast In The Instant Pot?
Anywhere from 60-80 minutes depending on the size of the roast. For our 3-5 pound roast, you're looking a (60-min 3 lb / 80-min 5 lb roast).
Chef's Tips:
Allow your roast to come to room temperature before cooking (about 30 minutes) encrusted with Kosher sea salt and fresh cracked black pepper. Producing juicer and more evenly cooked meat, we've been practicing this for decades with nearly every cut of meat we cook.
I personally would never ever cook a frozen roast, even though I've heard of it being done. I want the sheer magic of the Maillard Reaction: A concurrent chemical reaction in which heat transforms proteins and sugars on and in food. Creating new aromas, colors, and flavors. It makes a grilled steak taste charred, pan-fried chicken taste crunchy and moist, and pan-roasted almonds taste toasty. Temperatures must be high! Fast heating causes moisture to evaporate and browning starts to occur. Rapid heating via grills, hot pans, ovens, griddles, blowtorches (after sous viding) and deep fryers all create deep layered flavors in food.
Please Pin Our Recipe to Share with Your Friends!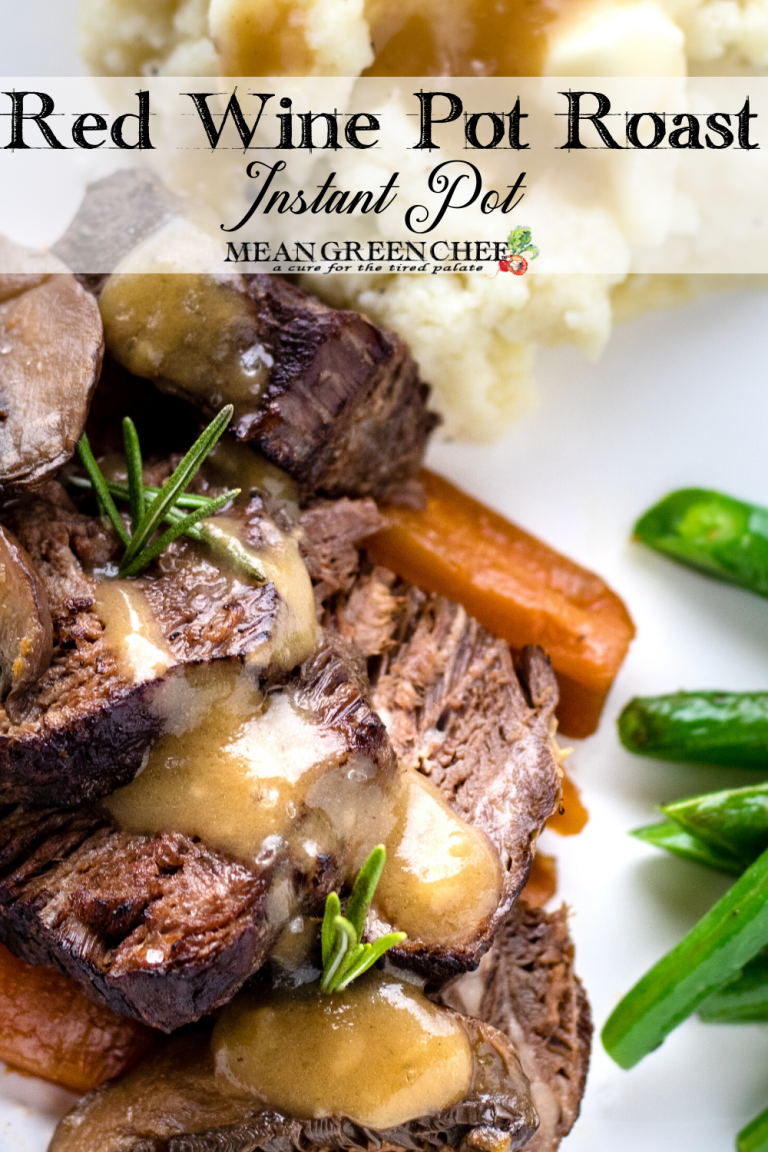 How to Make Red Wine Pot Roast in the Instant Pot
Red Wine Pot Roast | Instant Pot
Red Wine Pot Roast made in the Instant Pot, juicy fork-tender results with amazing umami flavor impact! A nearly instantaneous Sunday Roast any day of the week!
Keyword:
Instant Pot, Red Wine Pot Roast, Sunday Roast
Ingredients
3-5

pound

chuck roast,

well marbled

Kosher sea salt,

coarse ground

freshly cracked black pepper

3

Tablespoons

extra virgin olive oil

¼

cup (56 grams)

tomato paste

4

large

carrots,

scrubbed + peeled + cut into 3-inch-long diagonal pieces

3

large

celery stalks,

scrubbed + chopped into 1-inch pieces

1

large

white onion,

trimmed + peeled + roughly chopped 1-inch pieces

3

parsnips,

scrubbed + peeled + cut into 3-inch-long diagonal pieces

4

cloves

garlic,

smashed + chopped

1

sprig

fresh Rosemary,

sub 1 Tablespoon dried or 1 teaspoon ground

2

large

Bay leaves

8

ounces

Portobello mushrooms,

cleaned + bottom trimmed +sliced

1 ½

cups (360 ml)

dry red wine

1 ½

cups (360 ml)

beef stock,

homemade or excellent quality

3

Tablespoons

cornstarch

6

Tablespoons

water,

for mixing with cornstarch
Instructions
Take the chuck roast out of the fridge then sprinkle liberally with Kosher sea salt and freshly cracked black pepper. Allow it to come to room temp for 30 minutes.

Select the "Saute" function on the IP and allow it to heat up, then add the olive oil and heat for 30 seconds. Begin to sear the chuck roast...

Each side will take about 5 minutes, make sure that it takes on a lot of color (color=flavor)...

Don't forget to brown the sides too! Then remove to a plate and set aside.

Add the tomato paste, carrots, celery, onion, parsnips, garlic, Rosemary, and Bay leaves and saute for 5 minutes, stirring frequently. (You can add 1 lb red potatoes in this step if desired) we make mashed.

Toss in the mushrooms, stir and saute for 1 minute.

Pour in the red wine and beef stock, stir and cook for a another 5 minutes to reduce and concentrate the flavor.

Introduce the Chuck Roast back to the IP along with any juices that have accumulated on the plate. Cover and seal, being sure that the pressure release is in the closed position. Switch the IP to "Manual + High" and set the timer for 60-80 minutes (60-min 3lb / 80-min 5lb roast).

Let Instant Pot naturally release pressure for 20 minutes, then release remaining pressure fully. Uncover and remove the roast and allow it to rest for 5 minutes. Mix the cornstarch and water until dissolved and then pour into the IP and stir to thicken the Au Jus from the roast to make a gravy.

Trim and slice the roast and serve with mashed potatoes and green beans if desired.
Recipe Notes
Prep time is approximate.
Store leftovers in the fridge in an airtight container up to 3 days.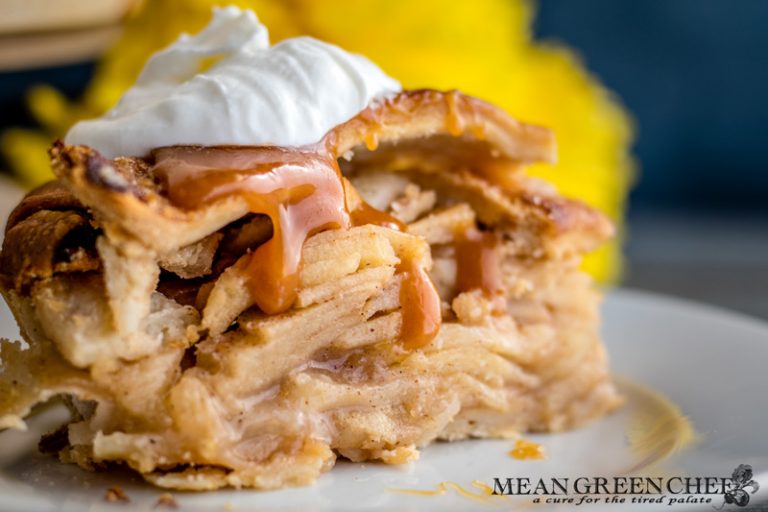 For an All American Dinner finish with our Popular Caramel Apple Pie, straight from our family kitchen to yours. 
Did You Make A Mean Green Chef Recipe?
We 💙LOVE💚 seeing your creations! So don't forget to tag us @meangreenchef or #meangreenchef so we can see what's happening in your kitchen!
Also Shared On These Great Blog Hops!