Our Lasagna Soup is a longtime family recipe, it's savory and perfect on a cold winter day. A classic blend of rich lasagna flavors, in a luscious broth. We use homemade lasagna noodles because they are so damn good! Easy to make and you can get our fresh egg yolk pasta recipe here. But if time is limited, grab a box of Farfalle or Mafalda while you're at the grocery store.
Chef's Tip: Easily create deep umami flavor with leftover Parmesan rinds. Toss the cheese rinds into your freezer and use them in a number of dishes to impart wonderful new taste. These rinds are a key ingredient in several of our dishes including this amazing soup and our homemade Italian Red Sauce.  If you've been throwing away your rinds, you've been missing out on putting them to a delicious second use. 
Add them to a jar along with some crushed garlic and rosemary and pour Extra Virgin Olive Oil in up to the neck of the jar. Use for cooking and dipping warm crusty bread. 
Add to Risotto or rice when cooking and remove before plating. 
Perfect for winter bean soups, remove the rind before serving. 
Add to a pot of stock.
Toss into stews. 
---
The stock for this lasagna soup is a robust tomato base fused with fresh herbs, a blend of sweet and hot Italian sausage, cheese and a touch of cream if desired. It shines as the flavors blend and a heady aroma fills the kitchen with the personality of a freshly baked lasagna. That first spoonful piled high with fresh tender noodles, tomatoes, sausage, and a mouth-watering broth will have you hooked!
How Do I Build Flavor in Soup?
There are several steps that will help you build flavor in any soup you make.
Sear the Meat: A crucial step in building flavor, often done in batches, using a fiery hot pan. Creating a dark crust that develops a deep savory flavor component. Lay your meat in the hot pan and allow them to sizzle for at least 5 minutes before flipping, when the bottoms have a dark crust and come away easily from the pan then you can flip to the other sides.
Sweat the Vegetables: A technique that uses mild heat to soften vegetables and gently draw out their best flavor. Often referred to as aromatics, carrots, celery, onions, shallots and garlic benefit from sweating. Not caramelizing or browning, rather unlocking delicate aromas and breaking down the hard cell walls of these vegetables.
Season Every Step of the Way: Adding salt as you cook is imperative to achieve full flavor. Season at every stage of the process! Leaving seasoning till the end of the process will leave a dish flat. Season meat before searing, add salt while sweating your vegetables and remember to taste as you go. Adjusting for flavor as you go allows you to create a bevy of flavors you never thought possible.
---
Skip store-bought stock and develop flavors with items you already have in your pantry and freezer!
Leftover beef or chicken bones
1 large onion
6 large garlic cloves
4 large carrots, broken into pieces
4 large celery stalks, broken into pieces
2 parsnips
2 turnips
tomato paste
Herbs and other spices of your choice, a few that we always have on hand. Kosher salt, peppercorns, bay leaves, fennel seed, parsley, and thyme. These ingredients can be adjusted to what you have on hand and the flavors you want to achieve. Add them to the process of building flavor and you are on your way to a rich and savory soup.
Please Pin Our Recipe to Share with Your Friends!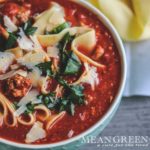 Lasagna Soup
This Lasagna Soup is a family recipe, it's savory and perfect any day of the year. A classic blend of rich lasagna flavors, in a luscious broth.
Cuisine:
American, Italian
Ingredients
2

tablespoons (30 ml)

extra-virgin olive oil

plus more for drizzling

1/2

pound

hot Italian sausage

casings removed

1/2

pound

sweet Italian sausage

casings removed

kosher sea salt

1

large

white onion,

topped + skinned + 1/4-inch dice

2

teaspoons

dried oregano

6

tablespoons

tomato paste

6

large

garlic cloves

crushed + skinned + finely diced

8

cups (2 L)

chicken stock,

homemade or favorite brand

2

cups (475 ml)

water

1

28 ounce can (794 grams)

crushed tomatoes,

we use Dei Fratelli

1

cup (45 grams)

chopped fresh basil

plus thinly sliced leaves for topping

1

cup (100 grams)

grated parmesan cheese

1/2

cup (120 ml)

heavy cream,

sub half and half
Instructions
Heat 1 tablespoon olive oil in a large Dutch oven or heavy-bottomed pot over medium-high heat.

Add the sausage sprinkle with a dash of kosher salt and brown until crusty bits form on the bottom of the pan. Remove from the Dutch oven and allow to drain on paper towels.

Reduce the heat, then cook the onion until softened for about 5 minutes. Add the oregano, and tomato paste, stir until darkened and fragrant, about 3 minutes and then toss in the garlic and saute for an additional 30 seconds.

Combine the browned sausage back to the pot.

Stir until well blended, taste for flavor. Add more Kosher Sea Salt if necessary. 

Pour in the chicken stock, crushed tomatoes, and 2 cup water; increase heat and bring to a slow boil.

Stir, reduce the heat, cover and simmer for 1 hour, stirring occasionally.

Uncover, stir, and simmer for an additional 20 minutes, slightly reducing the soup. Check for flavor balance.

Bring a pot of salted water to a boil and cook lasagna noodles per directions. Drain, and toss with a drizzle of olive oil.

Mix in the noodles, basil, parmesan, and heavy cream; simmer 2 more minutes.

Serve in warm bowls.

Topped with fresh basil and parmesan.
Recipe Notes
Prep time is approximate.

To heat soup bowls, place oven-safe bowls into 200°F/93° for 5 minutes. 

Store leftovers in the fridge in an airtight container up to 3 days. 
Freeze in an airtight container up to 6 months. If storing in the freezer do not add the noodles until you are ready to thaw and reheat the soup. 
Did You Make a Mean Green Chef Recipe?
We 💙 LOVE 💚 seeing your creations! So don't forget to tag us @meangreenchef or #meangreenchef so we can see what's happening in your kitchen!
Also Shared on These Great Link Parties!