Melt in your mouth, Bakery Style Chocolate Chip Cookies. The perfect fusion of sweet and salty, a soft crunch on the outside and gooey on the inside. They dissapear fast so you may want to make a double batch!
Allow your butter to come to room temperature, ideally about 70°F/22°C is perfect. Butter that is to warm or melted will produce cookies that spread out and become too thin. While your butter is sitting out, gather all of your baking ingredients and supplies. 
Use a scale to measure ingredients, if you don't have one, get one! A scale ensures you have the correct measurement every time. Volume measurement is a faulty process that is affected by a number of aspects. Measuring cups, flour, leveling, scooping, and other factors can throw off a proper measure. Weighing ingredients in grams is right every time, not to mention less messy and is a faster process from start to finish. We use a clean metal bowl and zero out the scale each time an element is added. 
Chef's Tip: Allowing your dough to rest overnight in the fridge adds a depth of flavor that can't be beaten! Of course, if you're in a hurry let the dough chill for an hour and then bake.
Use a Scale to Weigh Your Ingredients!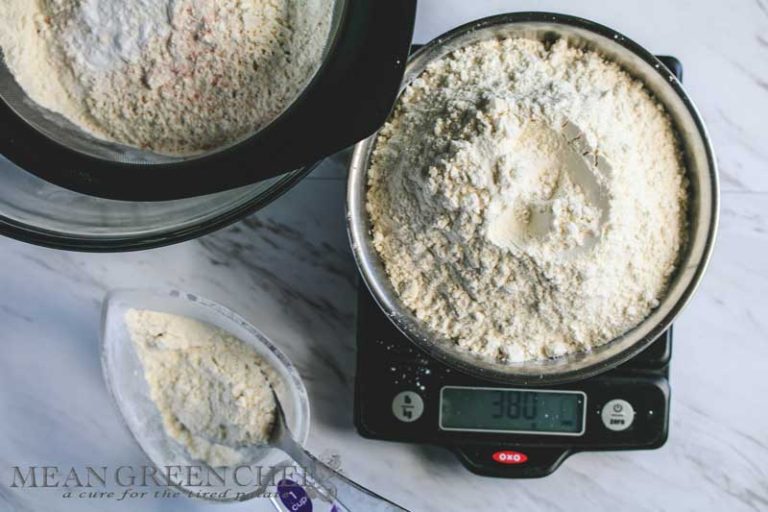 Salt is a cookies best friend, so don't skip it or skimp on it! Salt gives balance and depth of flavor to cookies. We even sprinkle a touch on top just before baking. 
Don't overmix the dough, you want to make sure that the batter is mixed fully but not over-beaten. Over-beating creates a tough, dense cookie. Once the flour is blended then fold in your chocolate chips and other add-ins, this will ensure the texture of your cookies is spot on. 
A large cookie scoop is ideal for creating uniform cookies, but you can certainly use a tablespoon and heap onto your cookie tray. Make sure to give the cookies enough room, for most cookie recipes we only bake one sheet pan at a time with 6 cookies that allows for plenty of room for cookies to bake uniformly. 
Sprinkle with a touch of sea salt for added pop and depth of flavor. We love Fleur de sel, due to it's thin and delicate crust. But, certainly kosher sea salt will work well too. Don't use table salt!! 
Remove from the oven about 1-2 minutes before fully cooked. Your cookies will finish cooking after being pulled from the oven to rest. 
Please Pin Our Recipe to Share with Your Friends!
How to Make Bakery Style Chocolate Chip Cookies
Bakery Style Chocolate Chip Cookies 
Melt in your mouth, Bakery Style Chocolate Chip Cookies. The perfect fusion of sweet and salty, a soft crunch on the outside and gooey on the inside. Perhaps the perfect cookie bite and disappear almost instantly after being pulled from the oven!
Keyword:
Bakery Style Chocolate Chip Cookies, Meyer Lemon White Chocolate Chip Cookies
Servings
:
28
cookies approx.
Ingredients
3

cups + 1 Tablespoon (380 grams)

all-purpose flour

1

teaspoon

baking soda

1

teaspoon

Pink Himalayan sea salt or Kosher sea salt,

finely ground

1

cup (227 grams)

unsalted butter,

room temperature

1/2

cup (100 grams)

granulated sugar

1 1/4

cups (225 grams)

packed light brown sugar

2

teaspoons

pure vanilla extract

2

large

eggs,

room temperature

2

cups (340 grams)

semi-sweet chocolate chips
Instructions
Preheat the oven to 350°F/175°C and line a sheet pan with parchment paper.

Mix flour, baking soda, and salt and set aside.

In a large bowl on medium-high cream the butter, sugar, and brown sugar until fluffy about 2-3 minutes. Then add the vanilla and beat an additional 15 seconds until combined.

Add eggs one at a time blending well after each addition.

Combine the flour mixture in 2 separate batches, mixing well after each addition.

Fold in the chocolate chips. Wrap the dough in plastic wrap and chill in the fridge overnight or at least an hour.

Scoop 6 rounded mounds of dough onto your lined cookie sheet, about 3 tablespoons in size.

Bake for 12-14 minutes pull the cookies out when the edges are set and the centers still look slightly underdone. Allow to cool on the baking sheet for 5 minutes and then move to a cooling rack.

Recipe Notes
Prep time is approximate.
Once completely cooled, cookies can be stored in an airtight container at room temperature for up to 5 days.
To ensure they remain soft add an uncooked flour tortilla on the top and bottom of the cookies.
Did You Make a Mean Green Chef Recipe?
We LOVE seeing your creationss, don't forget to tag us @meangreenchef or #meangreenchef so we can see what's happening in your kitchen!
Also Shared on These Great Link Parties!