Light and airy Cream Puffs for any occasion, filled with a super creamy decadent Chantilly Cream. For an added pop of flavor, we drizzled fresh Strawberry Coulis on top!
This is a super easy recipe, from start to finish! Pate a Choux is a French pastry made on the stove-top and baked in the oven till golden brown. Chantilly Cream, also known as Créme Chantilly is a sweetened vanilla-flavored whipped cream. It's the ideal filling for our ultra-fresh crispy on the outside, soft on the inside Cream Puffs!
Cream puffs are a culinary classic, created from ingredients you probably have in your kitchen now. Originating France, Pate a Choux, also known as Choux (pronounced Shōō), is the golden pastry base of these Cream Puffs. A versatile pastry that is also the base of; croquembouche, eclairs, profiteroles, saint honore, cream Choux, and gougeres (a savory puff topped with Gruyere cheese). 
Use our Classic Pate a Choux recipe to create the base of these tender flaky puffs.  Check out our post on the method to making these easy and tasty puffs!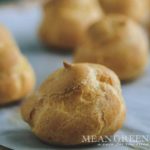 Pate a Choux Pastry
Perfect Pate a Choux pastry every time, bakes into tender high puffs. A nearly no fail recipe that takes minutes to prepare and turns out dozens of perfect puffs. Divide the batch into 2 and make 1/2 into savory Gougères and the whip the other half into perfectly sweet Cream Puffs filled with fresh Chantilly Cream.
Category:
Cooking Techniques
Keyword:
Pate a Choux Pastry
Ingredients
1 1/2

cups (350 ml)

water

1

stick Plus 1 Tablespoon (135 grams)

unsalted butter

1

teaspoon

granulated sugar

1/2

teaspoon

fine ground Kosher sea salt

1 1/2

cups (180 grams)

all-purpose flour

7

large

eggs

room temperature
Instructions
In a large saucepan, combine the water, butter, sugar and salt and bring to a boil.

Reduce the heat to moderate. Add the flour all at once and stir vigorously with a wooden spoon until a tight dough forms and pulls away from the side of the pan, 2 minutes.

Remove the pan from the heat.

Begin adding the eggs 1 at a time, stirring vigorously between additions until the eggs are completely incorporated and the pastry is smooth.

The dough should be glossy and very slowly, stretch and fall from the spoon in wide ribbons.

Cover the dough with plastic wrap and allow to chill in the fridge for 1 hour.

Preheat the oven to 425°/218°C and line a baking sheet with parchment paper.

Transfer the dough to a piping bag fitted with a 1/2-inch plain tip. Pipe 1 1/2-inch mounds onto the baking sheets, leaving 1 inch between them.

Put your puffs into the oven and turn the heat up to 450°/230°C and bake for 10 minutes.

Reduce heat to 350°F/176°C and finish baking for another 15 minutes, until golden brown.

Remove from oven and pierce a hole in the top or the side of each of the puffs with a toothpick. This allows the steam to escape and your puffs to hold their shape.
Recipe Notes
Prep time is approximate. 
Pate a Choux dough can be refrigerated for up to 3 days or frozen for up to 3 months before baking; thaw the dough overnight in the fridge before using. The shaped or piped pastries can also be frozen for up to 3 months and baked straight from the freezer.
Our favorite sweet filling is a classic Chantilly Cream, a decadent whipped cream. Flavored where with vanilla, however, you can create any flavor profile you wish! Get a boozy flair with Irish Cream on Saint Pat's Day or kick it up with a little dash of cinnamon. Check out more flavor profiles here!
Get our Cream Chantilly Recipe here and other flavoring ideas to take your Cream Puffs over the top. 
Chantilly Cream
Chantilly cream, also known as Créme Chantilly is a sweetened vanilla-flavored whipped cream. We love it in cream puffs, adorning fresh berries and floating on hot chocolate! It's an easy way (super easy way) to add extra flavor, texture, and appeal to nearly any dish.
Keyword:
Chantilly Cream, Whipped Cream
Ingredients
1

cup (240 grams)

heavy whipping cream

chilled

2

Tablespoons

confectioners' sugar

powdered sugar

1/2

teaspoon

real vanilla extract
Instructions
Chill a glass or metal mixing bowl

Lightly beat the cream in a large chilled bowl with a large balloon whisk, or in an electric beater, until it begins to thicken.

Add the sugar and vanilla extract and continue to beat until the cream is very stiff and stands in firm peaks on the beater when it is lifted from the bowl.
Recipe Notes
Best used fresh but can be kept in the refrigerator 2-3 days. 

If you have leftovers, place dollops onto a piece of wax paper and freeze. Once frozen through, toss into a freezer bag. Can be safely stored up to 3 months. 
Please Pin our Recipe to Share with Your Friends!👇🏼
Even though there are several steps involved in making Cream Puffs, as soon as you have the technique down you can jam them out. An awesome dessert to impress your family and friends! If you're on the hunt for an amazing chocolate treat, check out our Bakery Style Chocolate Cupcakes, they rock!!
Did you Make a Mean Green Chef Recipe?
We 💙 LOVE 💚 seeing your creations! So don't forget to tag us @meangreenchef or #meangreenchef so we can see what's happening in your kitchen!
Also Shared on these great Blog Hops!