Easy Country Sausage Gravy, served over fluffy buttermilk biscuits and topped with a bright sunny side up egg, a fast indulgent breakfast ready in 20 minutes flat!
I was in a pinch last weekend and needed breakfast fast we had a million things to do. Craig had been asking for sausage gravy for weeks, it was the perfect answer and of course, scoring points for an anticipated breakfast can't be a bad thing!
A considerable amount of Southern cooking originated from being broke! Wild pigs were numerous and milk and flour were inexpensive, giving us the treasured deep south recipe known as Biscuits and Sausage Gravy. Today southern cuisine is honored around the world.
This breakfast can be dished up with or without your favorite style eggs or all by itself spooned over piping hot biscuits or breakfast potatoes. It's the perfect option to serve for a big gathering of hungry morning guests! BUT seriously look at those eggs, yum!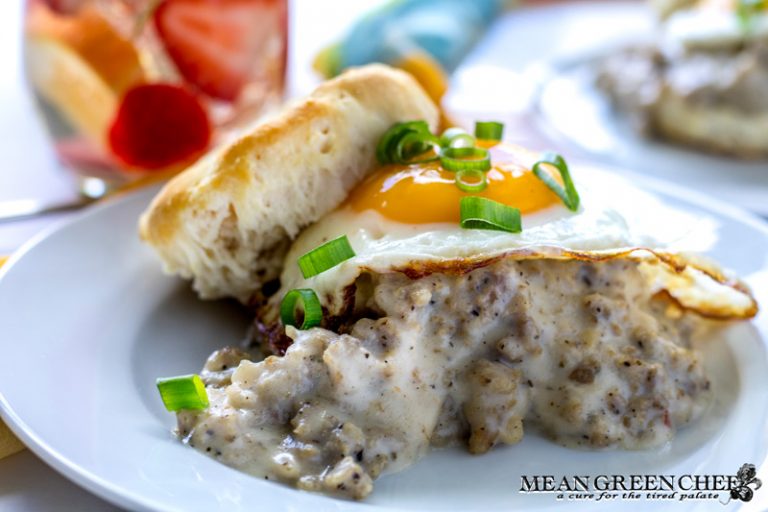 Heat the butter in a medium heavy-bottomed sauté pan over low heat, until slightly shimmering, about 3 minutes.
Crack the eggs into separate ramekins and then gently empty each to the sauté pan.
Cover with a lid and cook 2 minutes, uninterrupted, until the whites are completely set but the yolks remain runny.
Slide the eggs out of the pan on top of the hash and serve immediately.
What kind of sausage should I use for biscuits and gravy?
You definitely want to buy a good quality breakfast sausage. I suggest Tennessee Pride (this is not an ad). I've served their brand for as long as I've been cooking southern dishes, the flavor is perfect and the fat is minimal. You'll find it in the breakfast meat section, sold in tightly wrapped rolls. You can even play on the flavor by using the hot or sage varieties.
How do I reheat leftover Sausage Gravy?
Warm over low heat in a heavy-bottomed saucepan on medium-low heat, add a little milk as you go to thin the gravy to the desired consistency.
I served these up with a cold glass of strawberry, orange, basil water. Totally refreshing!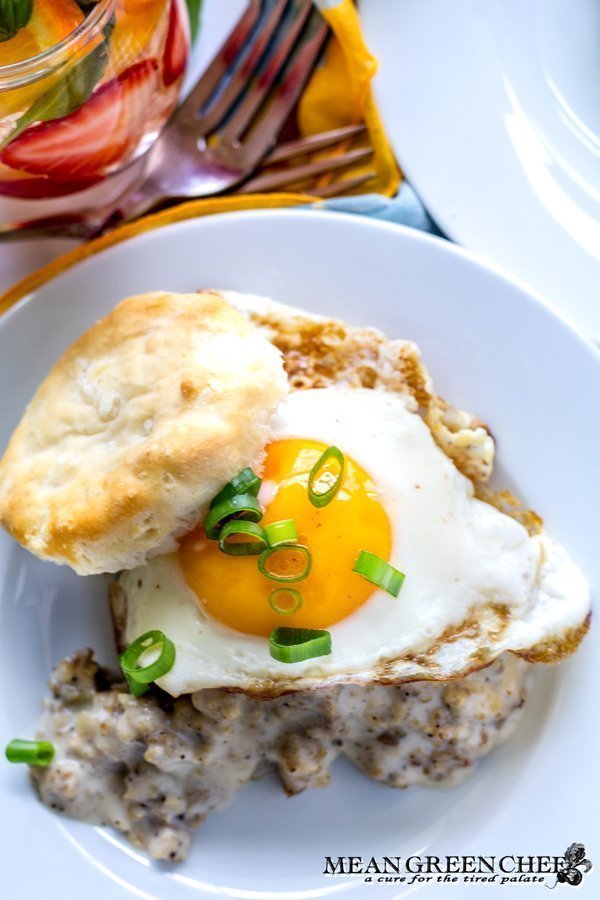 Tips for making the best Country Sausage Gravy
After the sausage has browned nicely, add the flour directly to the pot. Stir and allow the flour to melt into the sausage, as it cooks the mixture will have a slightly nutty aroma and the flour will start to brown. This adds a ton of flavor and genuine southern flare! Then you can start adding the milk or cream which will thicken the gravy.
Be sure to use whole milk or cream in this recipe. Remember gravy is all about the flavor and fat equals flavor! Obviously, this is not an every weekend breakfast so go ahead and indulge a little. Skim milk or milk substitutes will not produce the same delicious results.
Don't forget the freshly cracked black pepper it's a major component of this dish, add coarse Kosher salt after cooking to taste.
Please Pin our Recipe to Share with Your Friends!👇🏼
How to Make Country Sausage Gravy
Country Sausage Gravy
Easy Country Sausage Gravy, served over fluffy buttermilk biscuits and topped with a bright sunny side up egg, a fast indulgent breakfast ready in 20 minutes flat!
Keyword:
Country Sausage Gravy
Ingredients
1

pound

breakfast sausage

1/3

cup (40 grams)

all purpose flour

3

cups (720 ml)

milk or heavy cream

1

teaspoon

freshly cracked black pepper

coarse ground Kosher sea salt,

to taste

8

buttermilk biscuits
Instructions
Heat a heavy-bottomed Dutch oven over medium-high heat, add sausage; cook 10 minutes until crumbled and browned, stirring occasionally with a flat bottomed wooden spoon.

Add the flour to the sausage and stir until the flour is combined and begins to brown.

Pour in the milk, stir and cook about 5 minutes until thickened and bubbling. Add the pepper and taste for salt, then season accordingly.

Serve immediately over hot biscuits or potatoes.
Recipe Notes
Prep time is approximate.
Best eaten the day it's made.
Can be stored in the refrigerator in a tightly sealed container about 2 days.
Looking for more breakfast recipe inspiration? Then you make like these creations too! 
Did you Make a Mean Green Chef Recipe?
We 💙 LOVE 💚seeing your creations! So don't forget to tag us @meangreenchef or #meangreenchef so we can see all your great shots!