I can honestly tell you that our Bistro Broccoli Cheese Soup is the best broccoli cheese soup ever, I mean it this is one seriously good soup! It transcends Panera by leaps and bounds, plus it's super easy to make!
A one pot wonder that we've boosted taste on by sautéing the vegetables and then browning the flour to pull out every last drop of flavor. Did I mention it's easy to make too? It is!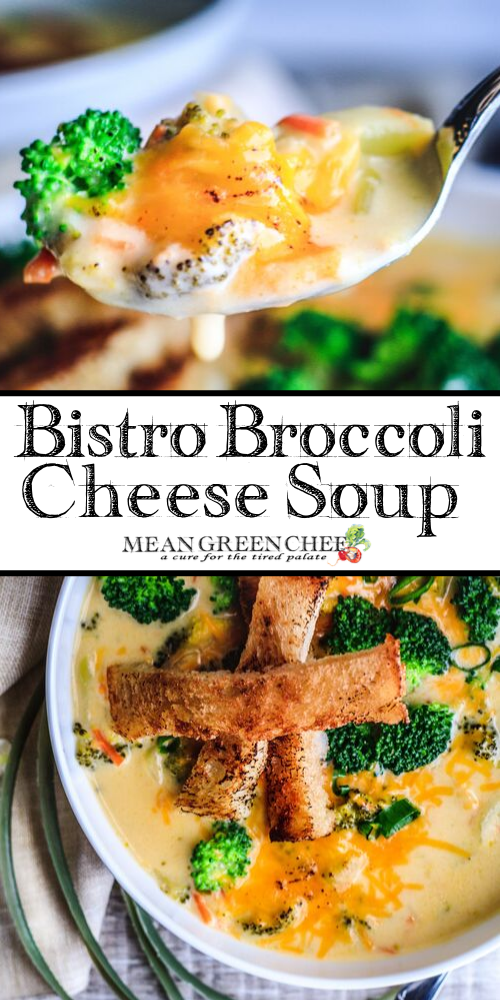 Maximum flavor! Remember when there's no color, there's no flavor. Boiling, poaching, and steaming have their place in our kitchen for sure. BUT for so many dishes taking the time to develop color and aroma will deliver your dishes to the next level. It all has to do with the magic of the Maillard reaction if you're a food nerd like me you can read more about that in the above article. 
Speaking of food nerdery here's a little broccoli history
Or of course, you can jump to the recipe and get cooking! Broccoli is botanically known as Brassica Oleracea Italica and is native to the Mediterranean. Engineered from a cabbage relative by an ancient Italian civilization known as the Etruscans who were deemed horticultural geniuses.
The English name broccoli stemmed from the Italian word broccolo meaning "the flowering crest of a cabbage," and the Latin brachium meaning arm or branch.
Introduced to England in the mid-18th century, broccoli was referred to as Italian asparagus and did not become popular until southern Italian immigrants brought it over in the early 1920s.
What goes well with broccoli cheese soup?
Broccoli cheese soup is heavy, add a light side salad with a vinaigrette, and a chunk of crusty bread. 
Ooey gooey extra cheesy broccoli soup, not just for cold winter days, we crave it year round!
How Long Can I Store Bistro Broccoli and Cheese Soup in the refrigerator?
After cooling, store in an airtight container up to 3 days in the fridge. 
Can Broccoli Cheese Soup Be Frozen?
Yes! Broccoli Cheese freezes perfectly. Cool and store in airtight containers or resealable plastic bags and freeze. When you are ready to enjoy, simply thaw and reheat on the stove top or in the microwave. The soup will keep for 6 months in the freezer.
Please Pin our Recipe to Share with Your Friends!👇🏼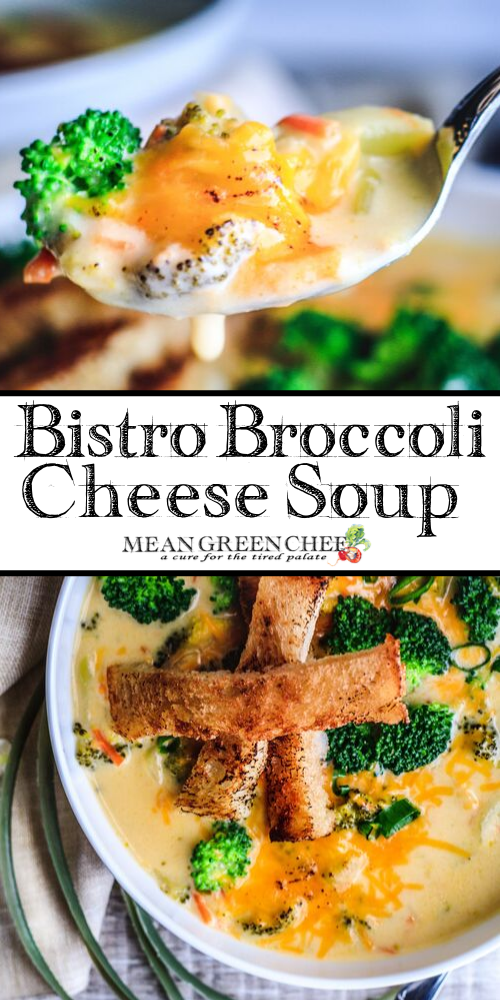 How to Make Bistro Broccoli Cheese Soup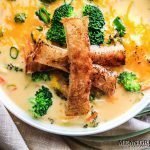 Bistro Broccoli Cheese Soup
Our Bistro Broccoli Soup is the best broccoli cheese soup ever. I mean it this is one seriously good soup! It transcends Panera by leaps and bounds, plus it's so super easy to make!
Keyword:
Broccoli Cheese Soup
Ingredients
2

Tablespoons

butter,

unsalted

1

large

yellow onion,

peeled + diced

3

large

celery stalks,

washed + sliced into 1/4-inch slices

3

large

carrots,

peeled + julienned

4

heads

broccoli,

cut into florets

3

cloves

garlic,

smashed + diced

1/4

cup

butter,

unsalted

1/2

cup

all-purpose flour,

unbleached

1

pinch

nutmeg,

grated or ground

4

cups

chicken stock,

sub vegetable stock if desired

2

cups

milk,

whole or 2%

2

cups

half + half or heavy cream

3

cups

sharp cheddar cheese,

grated

Pink Himalayan sea salt + freshly cracked black pepper,

to taste
Instructions
Heat a large heavy-bottomed Dutch oven over medium-high heat. Add the 2 Tablespoons of butter and heat for 30 seconds, then toss in the onions, celery, and carrots and cook for 2 minutes until the onions start to become translucent.

Add the broccoli florets, stir to combine. Sauté for an additional 3 minutes until vegetables become slightly tender and fragrant then toss in the garlic and cook an extra minute. Slide the Dutch oven off the heat and scoop out the vegetables into a large glass bowl, set aside.

Move the Dutch oven back over medium-high heat and melt the 1/4 cup of butter and then add the flour and nutmeg.

Cook the mixture for 5 minutes, stirring frequently with a flat-bottomed wooden spoon until it begins to brown.

After 5 minutes have passed, then begin to add the stock slowly. Stir continuously until the flour and stock are thoroughly combined, next pour in the milk and cream and add the vegetables back into the pot. Cover and reduce heat to low, simmer for 20 minutes, or until you're happy with the tenderness of the broccoli.

Stir in cheese and allow it to melt, stirring regularly.

Taste and adjust seasonings if needed. Then either serve as is, or mash it with a potato masher to break up the broccoli a bit, or transfer to a blender in two batches and puree completely. If you puree it in a blender, return it to the heat and allow to warm back up. Add a splash of broth if needed to thin the soup to your desired consistency.
Recipe Notes
Prep time is approximate. 
Store in a tightly sealed container in the fridge 3-4 days.  
Store leftovers in tightly sealed containers or heavy-duty Ziploc bags in the freezer up to 6 months. Defrost in the fridge overnight or on the countertop for 2 hours. 
To reheat, add to a heavy-bottomed pot and warm slowly over medium-low heat until heated through. 
Did You Make a Mean Green Chef Recipe?
We 💙 LOVE 💚 seeing your creations! So don't forget to tag us @meangreenchef or #meangreenchef so we can see what's happening in your kitchen!
Also Shared on These Great Link Parties!