Three words: Guinness Chocolate Cake. A rich cake infused with a deep dark stout that's imbued with subtle hints of coffee and chocolate. Resulting in a harmoniously moist crumb! Topped with a simple Glossy Cream Cheese Frosting, it pairs perfectly with the slightly bitter bite. Served up with a frosty pint of Guinness, and you have a seriously memorable dessert.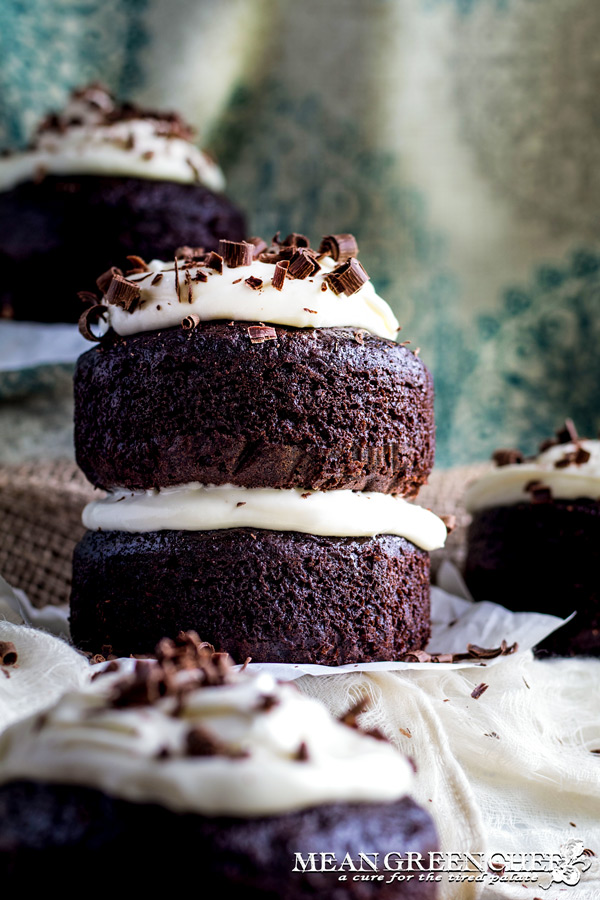 If you love a chocolate cake that isn't too sweet but has an incredible depth of flavor then this is your cake. Not overly sugary and more complex in taste and tone. Certainly an excellent dessert for St. Patrick's Day or any special day for that matter!
No you can make an 8-9 inch cake as well. We made mini cakes here with springform pans that measure 4.4″ diameter x 1.8″ H sold by Wilton (this is not an advertisement) they cook perfectly in about 20 minutes time. However, you can also use an 8 or 9-inch springform pan and bake for about 45-60 minutes in a 350°F/175°C oven. Check for doneness by inserting a toothpick or cake tester into the center of the cake, when it comes out clean the cake is done.
Tips for Making the Best Guinness Cake
Be sure to mix the batter by hand, it's super simple and comes together quickly. Blend until just combined, don't over mix. You'll notice this is a markedly thin batter, don't worry it's normal. Much like our Bakery Style Cupcakes, this batter rises nice and high and holds it's dome.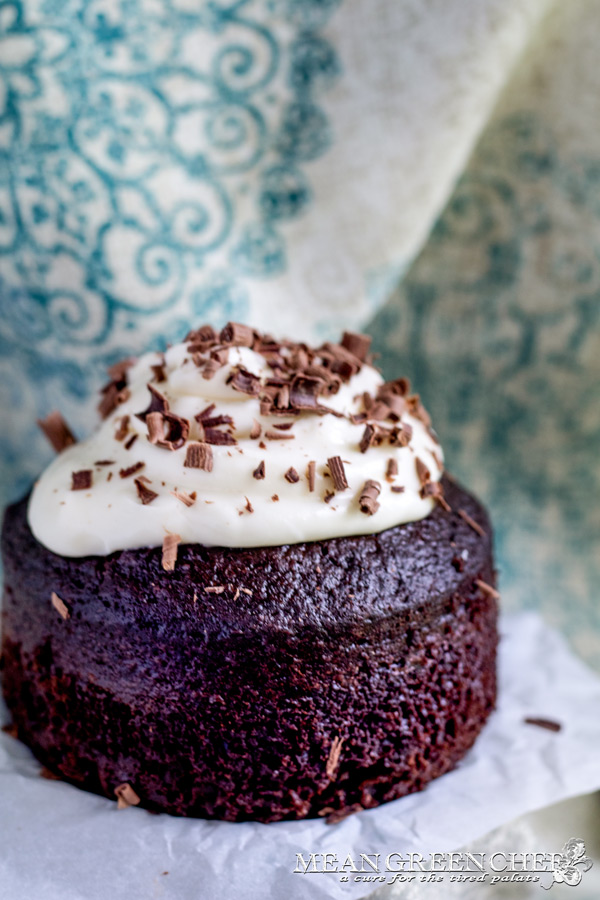 Don't overbeat the frosting either, when you combine the room temp cream cheese and powdered sugar start out on low speed to combine. Then add the cream and vanilla and beat about 40 seconds on medium speed until glossy.
Please note you can also beat the cream cheese first and then add the powdered sugar. We just happened to whip them at the same time while shooting.
How to Store a Cake With Cream Cheese Frosting
If your house stays at a cool temperature of around 70°F/21°C then you can safely leave the leftovers in a cake dome for 2-3 days sitting on the counter.

If you would rather keep for 5-6 days then store in the fridge under a dome or safely wrapped. Please note that the cold will typically toughen cake.
Please Pin Our Recipe to Share With Your Friends!
Do you like our Mini Guinness Chocolate Cake Recipe? Pin it to your favorite St. Patrick's Day, Cake Recipes, or Baking Board on Pinterest. Thank you for helping us grow!
How to Make Guinness Chocolate Cake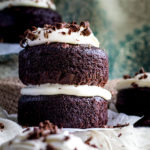 Guinness Chocolate Cake
If baking 8 or 9-inch Springform
Chocolate Guinness Cake. A rich chocolate cake infused with a deep dark stout that's imbued with subtle hints of coffee and chocolate. This flavor combination makes the perfect chocolate cake.

Keyword:
Guinness Chocolate Cake, Irish Dessert, St. Patricks Day Dessert
Ingredients
Cake
1

cup (119 ml)

Guinness Extra Stout

1/3

cup (76 grams)

butter

1

cup (100 grams)

natural cocoa,

unsweetened

1 1/2

cups (300 grams)

sugar

1/2

cup (90 grams)

dark brown sugar,

packed firmly but not to firmly

3/4

cup (213 grams)

Greek yogurt or sour cream

2

large

eggs

1

Tablespoon

pure vanilla extract

2

cups (240 grams)

all-purpose flour,

unbleached

1 1/2

teaspoons

baking soda

1/4

teaspoon

Pink Himalayan sea salt or Kosher sea salt,

finely ground
Glossy Cream Cheese Frosting
1

package (8 oz/225 grams)

cream cheese,

softened

2

cups (200 grams)

confectioners' sugar (powdered sugar)

1/2

cup (158 ml)

heavy cream
Instructions
Cake
Preheat the oven to 350°F/175°C. Grease 6 mini pans or an 8 or 9-inch springform pan with butter or Crisco and line the bottoms with rounds of parchment paper.

In a small heavy-bottomed saucepan, heat the Guinness and butter until butter is melted.


Remove from the heat; whisk in sugar and cocoa until blended.

Combine the eggs, sour cream and vanilla and mix by hand until well blended.

Whish the egg mixture into the saucepan and stir until combined.

Blend flour and baking soda; whisk into beer mixture until smooth.

Pour batter into prepared pan(s) and bake for 20 minutes in small pans. If using 8 or 9-inch springform pans bake up to 60 minutes.

Remove from oven and cool on wire rack for 20 minutes. Remove from Springform pans and allow them to sit until thoroughly cooled.
Glossy Cream Cheese Frosting
In a large bowl beat the cream cheese and frosting on medium-low until fluffy. Pour in the cream and vanilla. Then beat until glossy about 40 seconds.

Ice the top of the cakes to resemble a frothy pint of Guinness! We topped ours off with a bit of shaved dark chocolate.
Recipe Notes
Prep time is approximate. 
Allow to cool completely and then frost and serve. 
Leftover instructions can be found up top in this post. 
Did You Make A Mean Green Chef Recipe?
We LOVE seeing your creations, don't forget to tag us @meangreenchef or #meangreenchef so we can see what's happening in your kitchen!
Also Shared on These Great Link Parties!
Pin Guinness Chocolate Cake Recipe for Later!