Selecting Camera Gear for food photography can be fun, frustrating and confusing!
Which Camera Gear is best, and what lens is preferred for a picture-perfect shot? It took me 3 months to decide on a camera body and 2 lenses, and although I did change my mind on more than a couple of occasions. I love the setup I finally chose! It performs superbly in the small spaces I currently operate in daily and it's easy to travel with too.
I ultimately decided to purchase a Canon EOS 80d, due to several factors, but the main being their color science. It's excellent! And although Nikon's produce beautiful images with very good colors. Canon color science is outstanding, it makes for a smoother and more streamlined workflow in both photography and video too. 
There are a ton of reviews on the Canon 80d, but this is by far one of the best I've found. Plus Zak goes into detail regarding the video capabilities this powerhouse packs.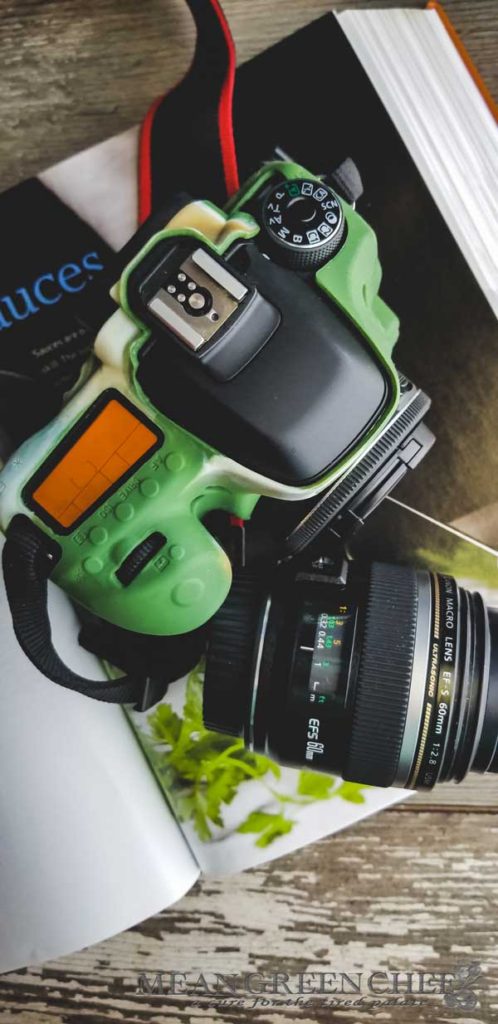 The Canon 80d is a 1.6x crop factor, which changes the focal distance of lenses. Also, know as an APS-C Focal length, this crop factor describes the size difference between a 35mm film frame and a camera's sensor. Crop factor basically creates a zoom effect with lenses. 
24MP PAS-C CMOS sensor with Dual Pixel AF
45-point AF system with all cross-type points
3" 1.04M-dot articulating touchscreen
1080/60p video capture
7 fps continuous shooting with AF
Weather resistant body
7560-pixel RGB+IR Metering Sensor
Wi-Fi + NFC (near filed communication)
A prosumer model that's feature-packed and is a great combination of performance versus cost! It's solid, has a little meat to it but not too much! Living in Florida it's nice that the body is sealed, helps with the humidity and bouts of rain here and there. 
The 45-point AF system with all cross points is freaking awesome! Allowing me to focus precisely and allowing for great creative control. The 3" touchscreen allows me to change settings easily as the light and atmosphere
shift.
I love it, and it suits my needs perfectly! Check out the reviews here!
Lenses for Food Photography
I have embraced Macro lenses! There is something special about the glass, they produce sharp images and lovely colors. While you can get beautifully detailed close-up shots, you can also step back and take wider shots with great Bokeh! They are fun and arty lenses to shoot with and I"m immensely happy with both of mine. 
While you can't zoom in and out with Prime (fixed) lenses per say, you can move forward and backward with your feet or tripod! They make me more aware of what I'm framing and shooting. 
Canon EF-S 60mm f/2.8 Macro USM (Prime)
This lens is a gem, and frankly, it rarely leaves my camera. It's a great combo with the 80d, even with the 1.6 crop factor. Make sure that you do take that into account though, because with the 1.6 crop factor you wind up with a 96mm lens, in effect. It's a nice combo that gets me close to that 100mm prime on the 80d. It's a wonderful multi-purpose lens great for food photography, and available light shooting.
Check out the reviews on Amazon  for this sharp prime! 
Canon EF-S 24mm f2.8 STM Macro (Prime)
This is a wide-angle lens and with the 1.6 crop factor it comes in around 38.4mm nice for wide table shots, overhead video and pretty much anything you desire. It also has great macro capabilities and is another wonderful multi-purpose lens. I have read some complaints about vignetting with this lens, but I haven't had any issues with the images I've shot with this lens. It's also a keeper in my book, not to mention it's affordable!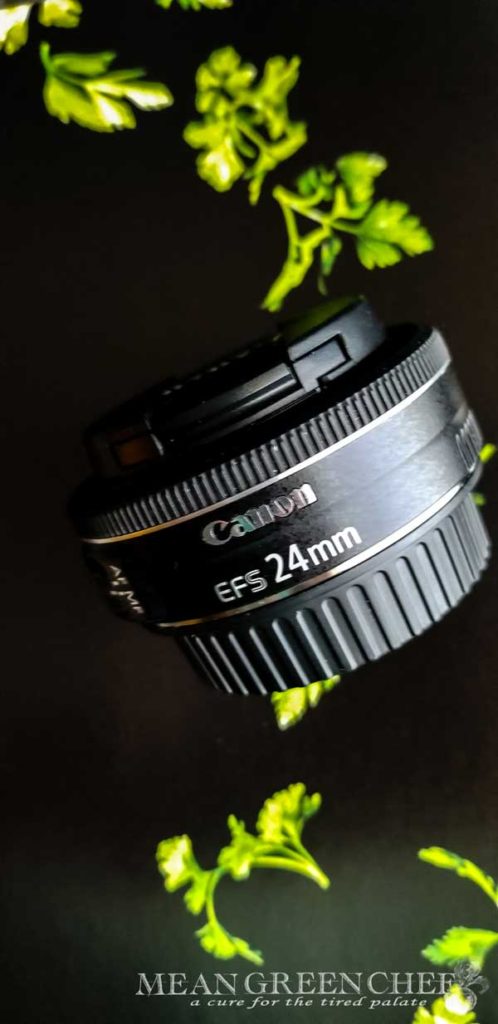 See what other users have to say about this sweet little pancake lens. 
The most important thing to keep in mind is that gear does not make a photographer. Invest what you can and work with what you have if you can't invest right now. Shoot with your phone if you're just starting out, and can't invest. equipment does not make a good or great photographer, shooting does. 
Practice as much as you're able. I shoot between 4-8 setups a week and anything in between! I also immerse myself in food photography. Take at least 15 minutes a day to pour over Pinterest, Instagram or any sites you find inspiring. 
On a side note: Reevaluate what you shoot on a regular basis! You'll see growth in your photography and places where improvements can be made. You'll begin to notice subtle changes that will change the entirety of a photo. 
Where should you buy your camera equipment? 
There are a lot of options here obviously, from Amazon to camera retailers like B&H which are reputable dealers and  have warranties. But, keeping an eye on eBay for that special lens at a great price can be a serious reward! Just make sure that you're buying from a verified seller with great feedback! 
Disclaimer: Please note that some links on this page are affiliate links and we earn a commission if you purchase through those links. We keep advertising to a minimum to make the user experience more stable and enjoyable. We use all the products, programs and companies we share, and we recommend them because they're helpful and trustworthy. Please let me know if you have questions about anything discussed. Thank you for your support. 
Considering building your own website in WordPress? Be sure to check out Lightroom Basics for Food Photographers, covering importing and the main editing features in this powerful program. And, if your confused about WordPress platforms and which one you should choose read Understanding WordPress for help with clarification. 
If you have any questions, leave a comment and I'll be happy to help!