Instant Pot Butternut Squash with Thyme is a quick, flavorsome, and beautiful side dish, that compliments many meals. Whipped up in 10 minutes!
The Instant Pot has been a true boon to the kitchen. Creating perfect meals in minutes, it's the "set it and forget it" gadget that we truly use and love.
You can cook butternut squash in it thick skin, however it is not edible. We halve it and scoop the seeds, then cook it in the Instant Pot. After it's cooled a bit, we slice it right in the skin and then remove the slices to a serving platter. 
How Do I Peel a Butternut Squash?
If you are simply looking to peel and dice a butternut squash then you'll want to check out this easy to follow video from our friend Chatelaine! 
Always use a really sharp knife, or vegetable peeler!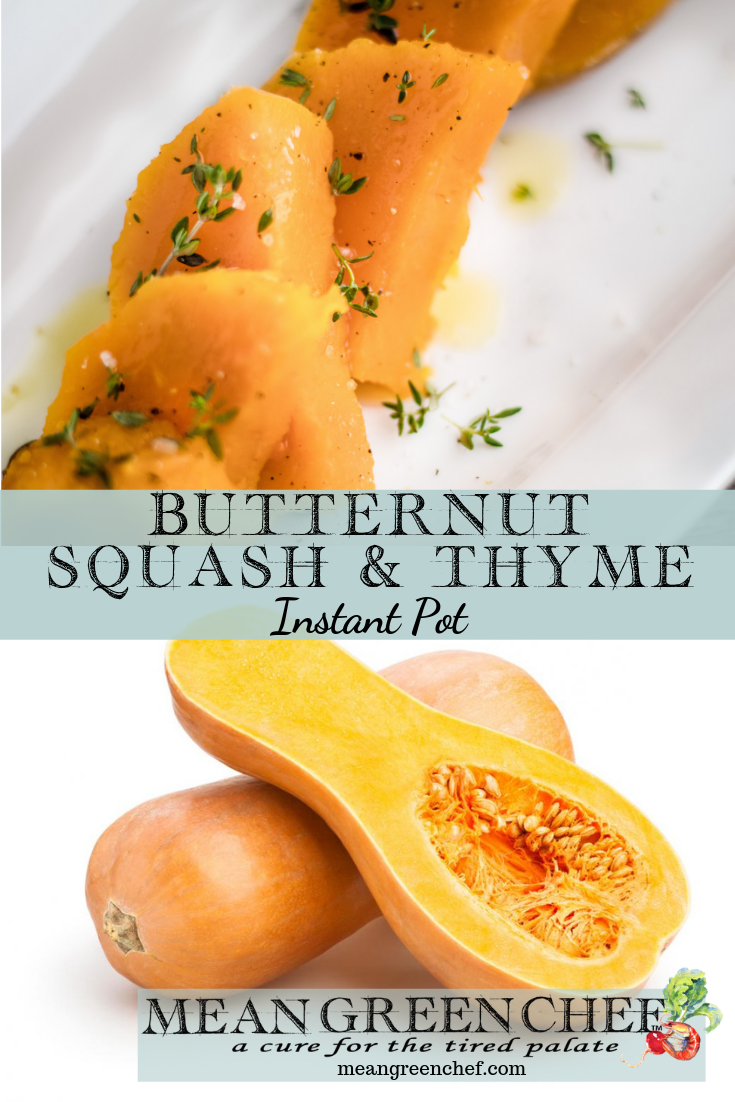 Scientifically known as Cucurbita moschata, butternut squash is a winter squash made by cross-breeding Gooseneck squash and Hubbard squash.
Butternut Squash seeds are edible and can be roasted, like pumpkin seeds.
Be sure to choose a butternut squash that has a matte color to its skin, rather than a glossy sheen, which indicates that it was picked too early and will not be as sweet. 
As the squash ripens, the color of the flesh becomes sweeter and a obtains deeper orange color.
Often regarded as the winter squash, but Butternut Squash is never grown in the winter. They are picked in the fall.
Presidents Washington and Jefferson grew squash in their gardens.
Virtually, the entire squash plant is edible. The leaves, tendrils, shoots, stems, flowers, seeds, and fruit can all be eaten. 
Butternut Squash Nutrition
One cup of cubed winter squash contains about 80 calories, has virtually no fat, and very little sodium, and is high in fiber. It's also a great source of potassium and manganese; and a good source of calcium, magnesium, Vitamin E, Thiamin, Niacin, Vitamin B6, and Folate. Thank you for the great information WSDA Farm to School! 
Please Pin Our Recipe to Share with Your Friends!👇🏼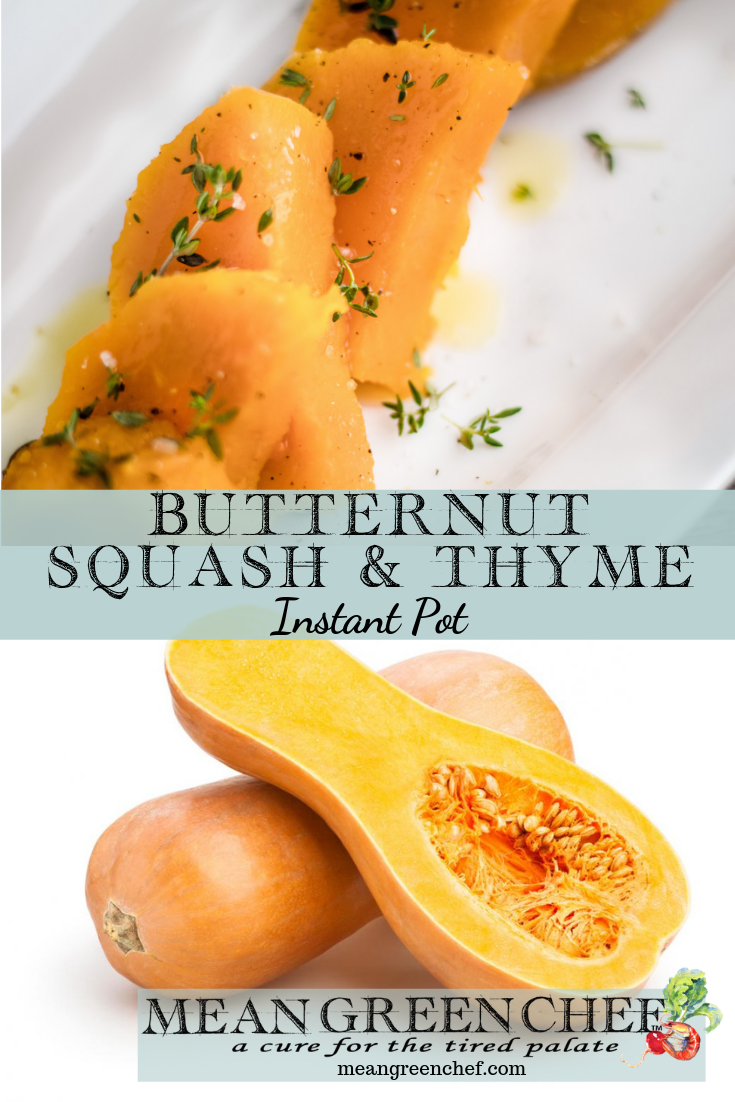 How to Make Instant Pot Butternut Squash with Thyme
Instant Pot Butternut Squash with Thyme
Instant Pot Butternut Squash with Thyme is a quick, flavorsome, and beautiful side dish, that compliments just about any meal.
Keyword:
Instant Pot Butternut Squash with Thyme
Ingredients
1

2.5 lb

Butternut Squash

halved and seeded

1

cup

water

2

Tablespoons

olive oil

extra virgin

1

teaspoon

Kosher sea salt

or to taste

2

teaspoons

thyme leaves

fresh (1 teaspoon dried)

freshly cracked black pepper

to taste
Instructions
Scrub the outside of the squash, cut in half with a sharp knife and scoop out the seeds.

Pour water into the Instant Pot, and place the Butternut Squash cut sides up into the IP. Drizzle with EVOO, and then sprinkle with Kosher sea salt, fresh Thyme leaves and a good dose of freshly cracked black pepper.

Set the Instant Pot pressure to HIGH and set time for 3 minutes, this will cook the squash perfectly but allow it to hold its shape.

When time is up, quick release and carefully remove the lid. Lift the squash to a cutting board and allow to cool for a couple of minutes or until you can easily handle it. Squash can be sliced and served as shown or scooped and mashed. Both ways are equally delicious!
Check out our other Side Dish Recipe Inspiration! Starting with our Steakhouse Potato Stacks, sliced thin and cooked in a garlic cream sauce. 
If you want to step out of the everyday side dish routine then you'll want to make note of our Minted Peas w Lemon, they go fabulously with so many mains!
Did You Make a Mean Green Chef Recipe?
We 💙 LOVE 💚 seeing your creations! So don't forget to tag us @meangreenchef or #meangreenchef so we can see what's happening in your kitchen!
Also Shared on These Great Link Parties!