Easy Hearty Vegetable Soup, just in time for the chilly weather that is settling in across the country. Of course, skipping most of Florida in its path! But we live vicariously through you all.
This is truly the BEST Vegetable soup we've created to date! We develop some seriously robust flavors through a quick sauté, bringing our fresh veg up to full throttle!
You seriously won't miss the meat. And if you wish to add some grilled chicken, it'll quantify the taste by ∆ for sure 😉 (meaning it'll be damn good!) You could also easily sub chicken stock for the water.
But if you want to keep it strictly vegetable, just follow the directions and you'll have a great pot of soup in no time flat!
Sweat the Vegetables: A technique that uses mild heat to soften vegetables and gently draw out their best flavor. Often referred to as aromatics, carrots, celery, onions, shallots and garlic benefit from sweating. Not caramelizing or browning, rather unlocking delicate aromas and breaking down the hard cell walls of these vegetables.
Season Every Step of the Way: Adding salt as you cook is imperative to achieve full flavor. Season at every stage of the process! Leaving seasoning till the end of the process will leave a dish flat. Season meat before searing, add salt while sweating your vegetables and remember to taste as you go. Adjusting for flavor as you go allows you to create a bevy of flavors you never thought possible.
Sear the Meat: (If you're using) it's a crucial step in building flavor, often done in batches, using a fiery hot pan. Creating a dark crust that develops a deep savory flavor component. Lay your meat in the hot pan and allow them to sizzle for at least 5 minutes before flipping, when the bottoms have a dark crust and come away easily from the pan then you can flip to the other sides. Same goes for grilling too!
Skip store-bought stock and develop a layering of flavors with items you already have in your pantry and freezer!
Leftover beef or chicken bones
1 large onion
6 large garlic cloves
4 large carrots, broken into pieces
4 large celery stalks, broken into pieces
2 parsnips
2 turnips
tomato paste
Herbs and other spices of your choice, a few that we always have on hand. Kosher salt, peppercorns, bay leaves, fennel seed, parsley, and thyme.
These ingredients can be adjusted to what you have on hand and the flavors you want to achieve. Add them to the process of building flavor and you are on your way to a rich and savory soup.
Oven roasted veggies (as pictured)
Cheese
Croutons 
Parmesan Crisps
Chopped Hard Boiled Eggs
Nuts or Seeds
Fresh Herbs
Sour Cream
Please Pin our Recipe to Share with Your Friends!👇🏼
How to Make Easy Hearty Vegetable Soup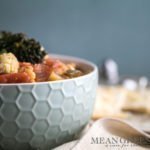 Hearty Vegetable Soup
Easy Hearty Vegetable Soup, this is truly the BEST Vegetable soup we've created to date! We develop some seriously robust flavors through a quick sauté, bringing our fresh veg up to full throttle!
Keyword:
Hearty Vegetable Soup
Ingredients
2

Tablespoons

olive oil

extra virgin

1

large

red onion

diced

1/2

teaspoon

red pepper flakes

optional

2

large

carrots

peeled and diced

1

large

red bell

diced

1

large

green bell

diced

1

large

yellow bell

diced

4

Tablespoons

tomato paste

1

Tablespoon

Italian Seasoning

3

bay leaves

fresh or dried

4

cloves

garlic

crushed

3

cups

broccoli florets

3

cups

cauliflower florets

2

medium

zucchini

sliced

1

28-ounce can

whole peeled plum tomatoes

hand crushed

8

cups

vegetable stock
Instructions
Heat a large heavy bottomed soup pot over medium-high heat. Add the olive oil and reheat for 30 seconds. Add the diced red onion and sauté stirring occasionally allowing to caramelize about 5 minutes. Toss in the red pepper flakes (if using) and sauté for another 30 seconds.

Add the carrots, red, green, and yellow bell peppers. Sauté, stirring occasionally for 5 minutes. (Pour the plum tomatoes into a bowl and crush by hand or with a potato masher while the carrots and peppers cook).

Combine the tomato paste, bay leaves, and Italian seasoning to the onion, carrot, and pepper mixture stirring to brown the paste and release the aroma and flavors of the spices. About 3 minutes. Add the crushed garlic and stir for 30 seconds.

Toss in the broccoli and cauliflower cook stirring 5 minutes. Pour in the hand-crushed tomatoes and vegetable stock, bring to a boil, reduce heat, cover and simmer for 15 minutes check the doneness on the veggies and cook till al denté.
If you love soup, like we do then be sure to check out our other great soup recipes! 
Did you Make a Mean Green Chef Recipe?
We 💙 LOVE 💚 seeing your creations! So don't forget to tag us @meangreenchef or #meangreenchef so we can see what's happening in your kitchen!