Looking to glam up a dessert or centerpiece? We'll show you How to Make Sugared Fruit in a couple of easy steps. Sugar dipped fruit is the perfect embellishment for cupcakes, cakes, and so much more!
Many recipes call for the use of pasteurized egg whites, or meringue powder. However, we utilize a simple syrup to coat these plump berries and then roll them in superfine sugar.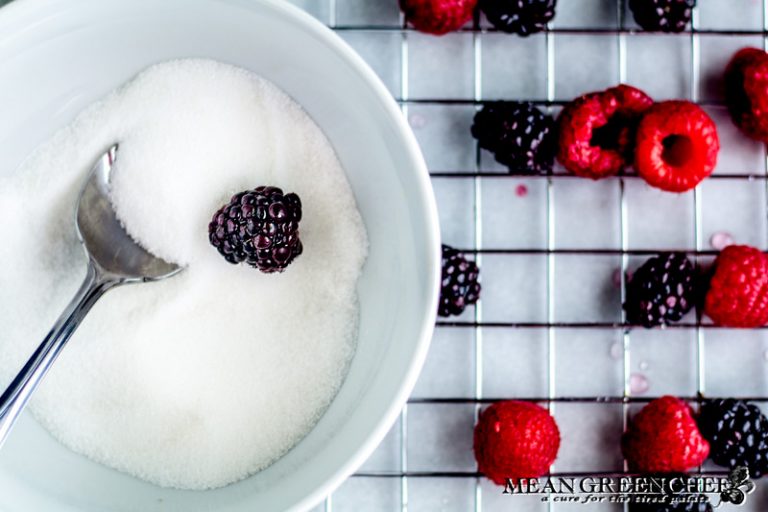 Tip: Find superfine sugar in the baking aisle, in a smaller sized canister.
Get creative here! For our Pink Champagne Cupcakes, we used raspberries and blackberries since they were eaten fast! Typically you'll see grapes, figs, pears, gooseberries, and roses. As the sugar on the fruit dries, a crunchy exterior is formed. 
Do not put sugared fruits into the fridge or they will become moist and the sugar will weep, which ruins the effect.
Sugared coated fruit is so easy to make, the only thing you'll have to plan for is the drying time. These take a total of 2 hours to dry (1 hour for the simple syrup to adhere and become tacky and 1 hour for the freshly rolled sugar to dry). However, the longer they dry the prettier they become!
Create a beautiful centerpiece for a party, use grapes, apples, and perfect pears.
Please Pin our Recipe to Share with Your Friends!👇🏼
How to Make Sugared Fruit
Sugared Fruit
Sugar dipped fruit is the perfect embellishment for cupcakes, cakes, and so much more! Plus, it's super easy to make and contains no eggs.
Keyword:
sugared fruit no egg
Ingredients
3

cups

raspberries, blackberries or other fruit

1/2

cup (120 ml)

water

1

cup (200 grams)

superfine sugar,

divided in half
Instructions
Add 1/2 of the sugar and water to a heavy-bottomed saucepan. Stirring continuously over medium-high heat until the sugar melts.

Gently add the raspberries, blackberries or other choices of fruit, being sure that they are covered on all sides.

Using a slotted spoon remove the fruit to a wire rack over a sheet pan or large piece of parchment paper. Making sure that the fruit does not touch and allow to sit for 1 hour undisturbed.

After one hour has passed, pour the remaining 1/2 cup of sugar into a bowl. Take the fruit and roll one piece at a time in the sugar.

As each piece is rolled, place it back on the rack until the process is complete. Allow the fruit to sit for 1 additional hour undisturbed.
Recipe Notes
Prep time is approximate. 
It's best to use fruit that isn't too ripe, as it will be difficult to glaze the berries.
Store sugared fruit at room temperature in a non-humid environment for up to 24 hours.
If the fruit is stored with moisture, the sugar will dissolve into a syrup-like consistency.
If you're interested in learning other kitchen techniques, then be sure to check out our other posts!
Did you Make a Mean Green Chef Recipe?
We 💙 LOVE 💚 seeing your creations! So don't forget to tag us @meangreenchef or #meangreenchef so we can see what's happening in your kitchen!